Brakes launches new vegan products, support materials and promotions for Veganuary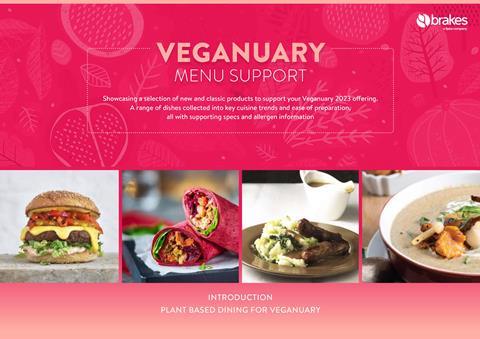 UK foodservice supplier Brakes has launched a comprehensive support package to help its catering and hospitality customers take advantage of Veganuary.
The firm, part of the US Sysco foodservice group, announced last week (9 December) that it has created a range of calorie-counted, nutritionally analysed menu options to "add stand out vegan dishes to any menu".
In addition, Brakes has created a range of video content with hints and tips to increase plant-based options on the menu on a new vegan hub at brake.co.uk. Brakes has also launched promotions on both branded and own label products throughout December and January to help operators make the most of Veganuary.
"With consumers increasingly considering plant-based options, both for meat-reduction and sustainability reasons, this coming Veganuary is likely to provide operators with an opportunity to drive incremental income," Mandy Van Hagen, Brakes sector marketing manager said.
"We've created our most comprehensive package for Veganuary to date, as we see an increasing number of chefs wanting to add menu options for January. Although January has become a focal point for vegan food, we are very focused on making sure that we have a range that works throughout the year and that's why we believe that we have the biggest range in foodservice.
"Eating a plant-first diet is one of the biggest changes we can make to help tackle climate change. For some operations, food can contribute more than half the carbon footprint, with animal proteins being the most carbon intensive. At Brakes we've committed to training our sales colleagues and chefs to support businesses in developing tasty, healthy and sustainable menus."
Brakes' campaign will see the number of vegan alternatives grow to more than 350 products, including a range of tasty new products for Veganuary 2023, such as Brakes Vegan & Gluten Free Blackforest Dessert, Tofoo Straight to Wok and our British made Brakes Falafel.