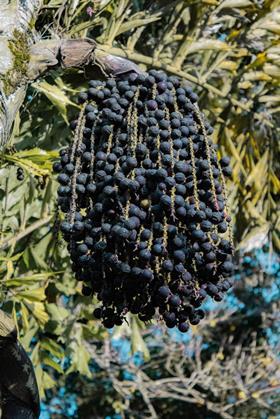 Brazilian processors and exporters of acai berries are gearing up to show off the fruit at London's International Food & Drink Event at the ExCel Centre on 21-23 March.
A Brazilian pavilion at the event (booth 4341), led by Apex-Brasil, will feature seven producers of world-renowned products, including three that process and export the country's iconic fruit, the acai berry. Xingu Fruits,Petruz AçaíandPolpanorte will showcase how the berry can be used for a wide range of healthy dishes and snacks.
Apex-Brasil's agribusiness managerMarcio Rodriguessaid: "The UK continues to be a major market for international trade and its demand for products that are new and exciting has only increased in recent years.
"Brazilian produce continues to perform well with this in mind, and the country's use of innovative technologies and sustainable agricultural practices continues to uphold its reputation as a crucial element of the world's global food supply chains."
Offering açai berry tastings to IFE visitors,Xingu Fruits,Petruz AçaíandPolpanorte's range of products, inspired by the fruit's health benefits, will be available to try at the Brazilian pavilion. Visitors will get the chance to meet the exporters, taste the anti-oxidant-rich berry and sample a range of snacks showcasing the fruit's versatility.
Theacai berry originates from, and continues to be grown in the Amazon rainforest, and thrives in its humid weather conditions. It is a totally organic product, with 95 per cent of Brazilian acai production centred in the state of Pará.
Apex-Brazil said the berry's recent export success is thanks to steps taken by Brazilian fruit producers in agricultural innovation and sustainable business practices.
Trade statistics for the continental-sized country indicate that Brazilian exports to the UK hit their highest levels since 2014 during 2021, while UK exports to Brazil surged by nine per cent.
The 12-month period in 2021 shows that Brazilian food and drink is on a strong growth of trajectory since the pandemic implications disrupted global supply chains. The sector represented 29 per cent of the total value of Brazilian products exported to over 25 countries internationally.
Brazil exported almost £634.7m worth of food and drink products to the UK in 2021 and according to TradeMap, the country's market share of British food and drink increased to 1.7 per cent in 2021.
The country's burgeoning fruit sector was at the forefront of Brazil's export success in 2021. Exports to the UK grew by 15 per cent by the end of the year to reach £116.4m, supported by strong demand for tropical varieties, as well as mangoes, peaches, nectarines and acai berries.
This demand spiked toward the end of the year, with export volumes and values increasing by 20 per cent and 23 per cent in the third quarter of 2021 compared to the same period in 2020.
Brazil is known to be the world's third-largest national fruit supplier, making it a critical component of supply chains. In 2019, 75 per cent of the country's fruit exports were destined for the EU and UK. On average, Brazil exports 45 million tonnes of fruit around the world each year.