Red-fleshed apple range receives positive feedback in consumer tastings as Worldwide Fruit spearheads marketing push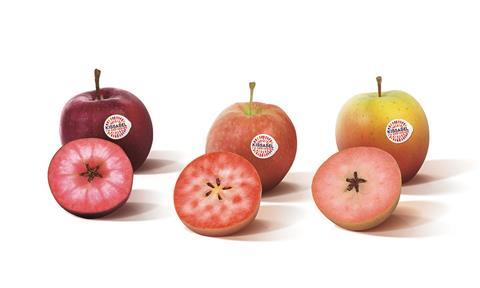 In-store tastings, product placement and trade fairs marked the first few months of Worldwide Fruit's inaugural UK sales campaign for Kissabel apples.
Britain is the first market where the full Kissabel range, including Kissabel Rouge as well as Orange and Jaune, is available to consumers. And the Rouge variety has received "enthusiastic" feedback since becoming the latest Kissabel apple to launch in Britain, the brand said.
The first UK harvest for the club apple brand was in September 2021, but this season has been accompanied by Kissabel's first UK marketing campaign.
Kissabel added that British consumers are "increasingly appreciating" the Jaune and Orange varieties, which have proven popular with younger consumers thanks to their vibrant yellow and orange skins.
One of Worldwide Fruit's first marketing activities with Kissabel was the brand's appearance on a Halloween episode of This Morning when the apples featured in a 'spooktacular party' menu. This came during the range's peak sales period.
On 12 October, Worldwide Fruit also embarked on a series of campaign activities with UK supermarkets, starting with consumer survey tastings in the fruit and vegetable aisle.
Some 56% of shoppers who tasted the apples bought a pack, and many others said they would do so, according to Kissabel.
The apples' most highly praised feature was their balance between sweetness and acidity. Some consumers also recommended them for cooking, while others said they thought the apples were good value for money.
There were also consumers curious to learn more about the range, opening up the possibility of suppliers printing more detailed information on Kissabel packaging in future.
To support retail marketing, Worldwide Fruit has provided UK supermarkets with a short video made by farmer Jeremy Linsell documenting the production story and special features of his Kissabel apples.
In addition, tailored content was created for Kissabel's TikTok channel.