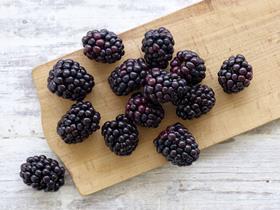 Blackberry sales are on the rise in the UK as new, improved varieties and a growing awareness of the fruit's health benefits drive category growth.
Britons spent £51m on blackberries in the past year, an increase of 8 per cent on the previous12 months.
A key reason forthis rise inpopularityisthe newvarieties of blackberriesthathave beenbredin recent years.These new berries along with advanced growingtechniques havecombinedto extend theblackberryseason and guarantee fruit quality, making the blackberrieson shelfin supermarketsnowalmost unrecognisable from their hedgerow counterparts.
What's more, there isa growingrecognition of the extensive health benefits ofblackberries. Theyare arich source of vitamin C – an important antioxidant which protectscells from damage and strengthens the immune system.
And the fruit is well known tomaintain healthy skin by playing a role in the production of collagen which keeps it smooth and elastic.
Blackberrieshavealso been linked to reducing inflammation, preventing weight gain, keeping hearts healthyand boosting recovery of muscles after intense exercise.
Nick Marston, chairman of British Summer Fruits, the industry body that represents 95 per cent of berries supplied to UK supermarkets said: "The blackberry industry has grown 8 per cent this year,and looking atourpast data and current industry insightswe are predicting a boom in blackberry popularityamongst Brits in the coming years.
"This can be attributed to thehugedifference in qualitybetween shop boughtversushedgerow-foraged blackberries–testament tothe hard-work,innovationand modernisationof ourBritish growers.
"The health benefits ofblackberriesare alsobecoming betterdocumented – whichis helping to boosttheberries'popularitystill further. Thisforecast,if correct, willcontinue toboostthe wider berry industry whichisalreadywortha huge£1.7bn tothe Britisheconomy."
Dr Emma Derbyshire, Public Health Nutritionist and adviser to British Summer Fruits explained:"Blackberrieslook and tastefantasticthis time of year –their gorgeous deep purple colour is caused their high levels of flavonoids, which havethe potential to exertpowerful anti-inflammatoryeffects.
"They arepacked with nutrients and fibre and eating just 10can contributetowardsone of your five-a-day."
British Summer Fruits has developed a range of recipes and serving suggestions to highlight the versatility of fresh blackberries as a snack andingredient, which are available at theLoveFreshBerries website.