The biggest celebration of British food and drink – British Food Fortnight – begins tomorrow (16 September)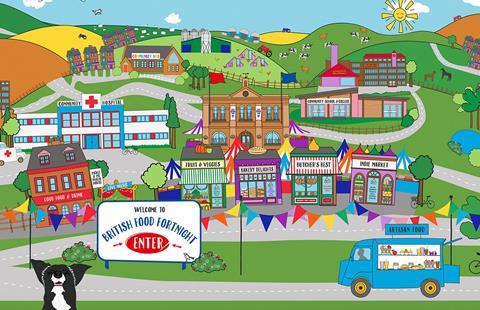 Hundreds of events celebrating British food and drink, and those involved in the sector, are expected to take place across the UK from tomorrow (16 September), with thousands of businesses and organisations planning to run fortnight-long menus and activities to promote domestic produce during British Food Fortnight (BFF) 2023.
BFF organiser Love British Food said it is hosting a variety of initiatives from 16 September to 1 October, including a National Harvest Service in Peterborough Cathedral and an annual 'Community Competition' fronted by TV presenter and beauty writer Liz Earle.
In addition, Love British Food is launching 'British Food Fortnight Live' – an online virtual town, where visitors can visit all aspects of a thriving community to see how British produce can be sourced, prepared and served.
The theme of this year's BFF is 'Good Food Available For All', with activities designed to advocate fair distribution of good quality British food throughout the UK, Love British Food said in a statement.
Commenting on the eve of BFF 2023, Cathy Amos, head of customer marketing at foodservice supplier Brakes – a Love British Food Ambassador, said: "We have been involved with Love British Food for many years as part of our commitment to supporting British food. Caterers want to put seasonal British Food on their menus, so Brakes always offers special promotions for British Food Fortnight.
"The national food celebration does a fantastic job in generating awareness of the wonderful array of British produce that's available whilst helping caterers drive extra footfall and revenue."
Alexia Robinson, Love British Food Founder, added: "Every year the response to British Food Fortnight blows me away and every year the event grows beyond what I could have envisaged in my wildest dreams when I started the celebration in 2002.
"Inspiring people, of all ages and backgrounds, in every corner of the country to help make Good Food Available For All. This is not just a positive celebration of all that is glorious about British food, but a proven way to deliver lasting and sustainable change across the remaining fifty weeks of a year."
Love British Food activities started in 2002 with 12 community groups around the country led by parish leaders. Its aim is to encourage people to seek out British food in a bid to increase the market share of British food and boost investment in British food production.
The not-for-profit describes its vision as: Boosting demand for British Food, so that farmers and producers have the confidence they need to invest in domestic, quality food production long term in order to guarantee the food security our country needs; Promoting robust, sustainable supply chains to deliver quality, nutritious food to the young in schools, to the elderly in care homes and to patients in hospitals; Advocating food growth and production that sustains the environment, contributing to biodiversity and the regeneration of the British countryside and soils.