The Food Foundation's 2022 Peas Please Progress Report highlights falling veg consumption and challenges ahead for the food industry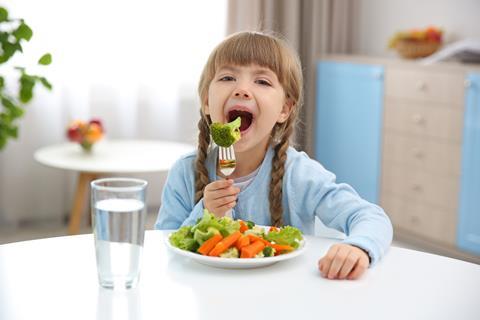 Cash-strapped families are struggling to afford a healthy diet and there is a pressing need to find ways to increase vegetable consumption as businesses deal with the aftermath of Covid, supply chain problems and the challenge of maintaining low costs to consumers, a new report reveals.
The latest progress report from Peas Please – a diet-changing partnership led by The Food Foundation with Food Sense Wales, Nourish Scotland, Nourish NI and Food NI – shows that the Peas Please scheme to tackle Britain's deepening public health and environmental crisis by boosting vegetable consumption now has commitments from more than 100 supermarket, restaurant chains and other major food industry players.
However, although Peas Please business pledgers have achieved 771 million extra portions of vegetable sold since the initiative started five years ago – with 147 million of them in the past 12 months alone – this is a much smaller increase than the previous year when 461 million portions were added, the report found.
The study, published last week (8 December), also showed that inflation and rising prices have taken their toll on UK consumers, with almost half of low-income families buying fewer vegetables since inflation in veg prices is running at almost 14% compared with around 7% for sweets and chocolate.
The report also showed a widening nutrition gulf between rich and poor: among those earning less than £10,000 the proportion of vegetables in the shopping basket fell in the past year while for those earning over £70,000 it remained the same despite rising prices.
However, the Peas Please team said it is keen to showcase efforts by committed businesses to combat these trends with examples of 'veg innovation' from a variety of its pledgers.
Greggs, Giraffe and Ocado are among organisations receiving special praise for achieving a green traffic light rating for successful efforts to change the direction of travel in the food industry.
Five more organisations have this year recognised the critical importance of these targets and joined the food pledger community of more than 100 household names, the Food Foundation said.
In 2023 the Peas Please partnership is asking pledgers to act to commit to new initiatives to help cash-strapped families maintain vegetable intake in their diet; demonstrate they have met their pledger commitments by July 2023; and celebrate the success of the past four years at our Autumn Veg Summit event where we will award our Golden Carrot prize for the company making the most progress
Rebecca Tobi, The Food Foundation's senior business and investor engagement manager, said: "This has been a difficult year for food businesses and households, and things are likely to get worse as the cost-of-living crisis deepens.
"Although we have seen Peas Please progress stall this year with worrying indications that families are having to cut back on veg, it is encouraging to see many of our pledgers continuing to work to champion veg. It has never been more important to make sure that households are still able to access and afford vegetables, with decisive action from the retail and out of home sectors to protect veg from the worst effects of the cost-of-living crisis urgently needed in 2023."
Charlie Parker, senior nutritionist at Ocado Retail added: "This year we pledged to increase our Ocado Own Brand range of fresh vegetables by 10% and ensure all of our main meal recipes in our Ocado Life Magazine contain at least one portion of vegetables - we're proud to have achieved both of these targets. We're looking forward to continuing to work with Peas Please to make '5-a-day' affordable, inspiring and achievable for our customers."
Katie Palmer, programme manager at Food Sense Wales, said: "This last year has been extremely difficult for our pledgers but a number of them have come together to respond to some of those challenges with supply chain innovation – using courgettes! This pilot involved a new entrant grower and included four of our Wales pledgers (Castell Howell, Tyfu Cymru, Cardiff Council and Food and Fun) to increase locally grown produce in the meals served in schools during the summer holidays as part of Welsh Government's Food and Fun programme. The successes from this research will be used to help inform the Welsh Government's commitment to increase the amount of locally sourced food into school meals as part of its roll out of Primary Universal Free School meals."
An initiative focused specifically on veg, Peas Please aims to bring together farmers, retailers, restaurant chains, caterers, processors and government departments with a common goal of making it easier for everyone to eat vegetables.
Committed to collaborative working, Peas Pease is led by project partners The Food Foundation, Nourish Scotland, Food Sense Wales, Food NI, and Nourish NI who have secured engagement and support from over 150 organisations in cities, business and Governments across the UK to bring about change to the whole food system to improve people's health and wellbeing.
The partnership is funded by the National Lottery Community Fund, the largest funder of community activity in the UK, who have made this work possible.