Wilson Country's new season potatoes to hit Northern Ireland Tesco stores from next week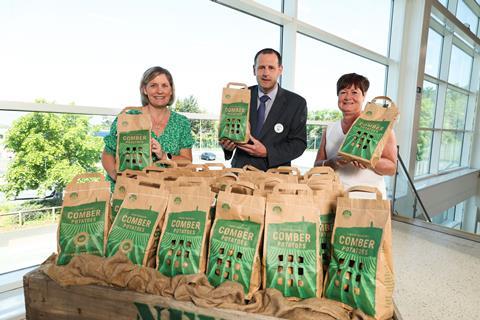 Northern Ireland potato grower Wilson Country plans to start harvesting its Comber Earlies next week, with first arrivals hitting Tesco NI stores from 7 June.
The quality of this year's crops has been boosted by the almost perfect growing conditions, according to Wilson's Country's sales and marketing manager Joanne Weir.
Much loved by local consumers, Comber Earlies have a unique heritage dating back to the 1600s. They are grown in their own microclimate, sheltered by the Mourne Mountains and the Ards Peninsula and protected from frost by the salty waters of of Strangford Lough.
"For many consumers, the availability of Comber Earlies represents the start of summer," said Weir. "They have a distinct, earthy flavour and can be enjoyed as part of a main meal or included in salads.
"But for the real connoisseurs of the potatoes, it's simply a case of steaming or boiling them in their skins, and then adding a nice chunk of melting butterand a sprinkle of salt & pepper. They are a stand-out treat, even on their own."
"The quality of this year's crops is truly excellent, so local consumers have something very special to look forward to over the coming days."
Gareth Morton, head of category commercial at Tesco NI, commented: "We are delighted to be so closely associated with one of Northern Ireland's most cherished culinary delights.
"Comber Earlies have a provenance that reflects everything positive about farming and food in Northern Ireland."