Firth Produce grower Annice Firth joins Syngenta's technical sales team ahead of innovation centre open days on 12-13 October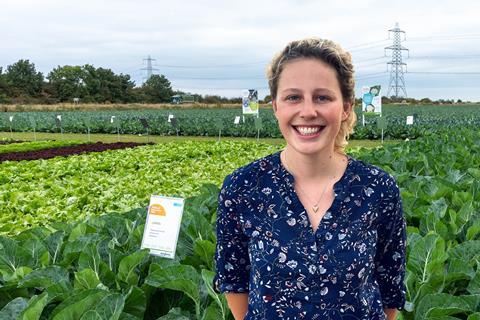 Firth Produce vegetable grower and fresh produce industry specialist, Annice Firth, has joined the Syngenta Vegetable Seeds UK's technical sales team.
Along with her practical experience of commercial vegetable crop production, Firth – who holds a degree in agriculture and environmental management from Lincoln University – previously worked with supermarket and wholesale specialty crop fresh produce suppliers, DGM Growers, part of the Fresca Group.
Based near Boston in south Lincolnshire, where she grows commercial courgettes, squash and pumpkins on the family farm, Firth will initially focus on delivering results from Syngenta trials of new brassica and cucurbit varieties, and provide cover for Syngenta salad and leafy brassica crops during the maternity leave of crop specialist Rosie Frost.
Firth will also be involved in organising the upcoming Syngenta Vegetable Seeds Innovation Centre open days on 12-13 October at Surfleet in Lincolnshire, designed to showcase Syngenta's new varieties and technologies.
The Vegetable Seeds Innovation Centre gives the first chance to see some of the latest varieties in real field conditions in the UK - and how they have performed in a challenging season, Syngenta said.
Syngenta Vegetable Seeds technical sales and cauliflower specialist, Louis Stokes, said: "On the site you'll see Syngenta crop breeders have already sought to introduce key traits of disease resistance in brassicas and leafy salads that are the foundation of more cost-effective control programmes.
"Allied to that, variety selection adds extra priority on field holding ability and mechanical harvesting capability, to further meet growers' needs."
Seeking ways to help growers manage costs and enhance sustainability, this season there is the opportunity to review an independent trial on variety selection for reduced nitrogen programmes with Syngenta Brussels sprout, cabbage and broccoli varieties, Stokes added.
And to get the best out of any variety, the implementation of effective integrated crop management strategies demonstrated on the site now includes the latest in proven biostimulants and biologicals from the Syngenta R&D pipeline, shown working alongside conventional pest and disease controls.
The Syngenta team at the event this year will include crop specialists, breeders and researchers across the whole range of brassica, onion, cucurbit, leafy salad varieties and crop protection.
Also on display will be the latest in mechanical harvesting technology, pioneered and developed by Grimme. Along with new innovations for application technologies - with advice on spraying in vegetable crops with drift reduction 3D ninety nozzles and an industry leading closed transfer system for sprayer filling, Syngental said.
Key topics to view at the Syngenta Vegetable Seeds Innovation Centre 2022 include: new clubroot resistant brassica varieties; reduced nitrogen-use trials; downy mildew resistance spinach varieties; hydroponic leafy salad production; biological crop protection; new fungicide R&D; application technologies – including 3D ninety nozzle research; and a Grimme mechanical harvesting demonstration.