Review will address key challenges in recruiting and retaining labour, with NFU stressing need for immediate action to alleviate workforce pressures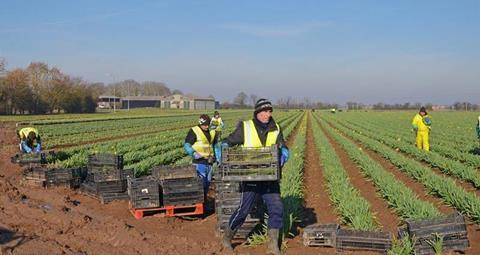 A new independent review of labour shortages in the food supply chain has been announced by Defra, fulfilling a pledge made in the government's recently published Food Strategy.
The review will focus on the challenges facing food and farming businesses in recruiting and retaining the labour they need, as well as exploring the role of automation, domestic employment, and migration routes.
Defra secretary acknowledged that labour availability is a "key issue" for UK farmers, and said the report would give the government "a vital insight into how to address it in future".
Former CEO of G's Fresh Group, John Shropshire, will chair the review, with support from a panel of six industry experts from different areas of food and farming.
The panel will include Finona Dawson CBE (a non-executive director at M&S, the Lego Group, and Kerry Group), Martin Ford (technical and sustainability director at Greencore UK), Mark Greet (former MD of Falfish), William Kendall (conventional and organic farmer, and food entrepreneur with brands such as New Covent Garden Soup Co, Green & Black's, and Cawston Press), Dr David Llewellyn CBE (former vice-chancellor of Harper Adams University), and Helen Sisson (group technical director at 2 Sisters Food Group).
The NFU responded by highlighting the importance of immediate action to alleviate workforce pressures.
NFU deputy president Tom Bradshaw said: "This review is much needed. We hope it will act as a catalyst for government to take action to ensure the food supply chain has the workforce it needs to continue producing, picking, packing and processing high quality, affordable and sustainable food for the nation.
"While there must be a focus on long-term workforce requirements and business resilience in the future, including things like boosting domestic recruitment and automation, farmers and growers are seriously concerned about how they will get the workforce they need right now. This review cannot overlook the immediate and pressing issues the food supply chain is facing as we speak.
"With this review taking place imminently, it's important that the government no longer delays commissioning the Migration Advisory Committee's review of the Shortage Occupation List. This will look at jobs where there is a shortage of suitable workers in the UK and where it is sensible to fill those shortages with migrant workers, so will play a big role in determining job shortages across the food supply chain.
"We also urge Defra to expand this review to include the British ornamental plant sector, which contributes a huge £1.4 billion to the UK economy. It is currently not included which means it could face significant waste and financial losses due to workforce shortages, thereby reducing its current positive contribution to the country overall."
The government said it has already taken steps to address labour shortages, such as extending the Seasonal Worker Scheme until the end of 2024 and making another 10,000 visas available, but it conceded that this is not a long-term solution.
The final report from the review will be published in 2023 and will be followed by a response from the government.