Up to 25 projects will support sustainable food production while working towards the government's environment and climate ambitions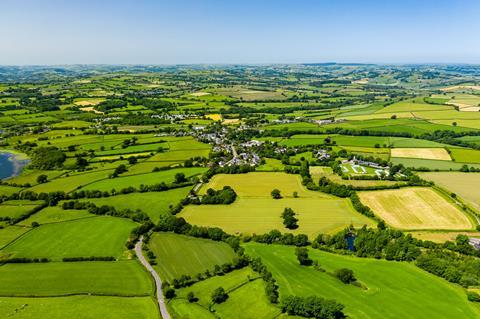 English farmers and landowners will receive funding and support for projects to create new habitats for wildlife, help protected sites and boost efforts to reach net zero, alongside sustainable food production, the government confirmed yesterday (18 May).
Building on the first round of the scheme launched last year, farmers and land managers will be able to bid for a share of £15 million initial development funding, with significantly more investment in the years to come as projects move from development to delivery.
This will help them to collaborate and work in partnership to protect and enhance landscapes in England, delivering environmental benefits on a massive scale while supporting farmers to deliver their world-renowned produce, Defra said.
The second round of the scheme will support up to 25 projects which will be administered by Natural England and the Environment Agency – the lead delivery partners for the scheme. The projects will be selected based on their environmental and social impact, value for money and suitability for the scheme. In addition, for the first time, we have introduced a food production criterion which will be used to ensure prospective projects take food production into consideration and mitigate any negative impacts on this where possible.
It will focus on projects of at least 500 hectares which could include landscape scale projects creating and enhancing woodland including temperate rainforest, peatland, nature reserves and protected sites such as ancient woodlands, wetlands and salt marshes.
Secretary of state for food and farming Thérèse Coffey said: "Landscape Recovery is one of our three Environmental Land Management schemes which provide the funding and support for farmers in England through the biggest change in a generation.
"The scheme is already supporting 22 inspiring landscape-scale projects across England with development funding and the second round will help more farmers and land managers take collective action through involvement in bespoke projects that will make a real difference in reaching net zero and supporting valuable habitats, while continuing to support sustainable food production."
Projects selected for the first round last year are demonstrating how food production and environmental delivery can go hand in hand. On the Somerset and Dorset border, the River Axe Landscape Recovery project is bringing together 23 farmers, smallholders and landowners, including dairy, beef, sheep and arable farms, to restore a 23.6km stretch of the upper river. The project will support regenerative farming and extensive grazing on the land neighbouring the river corridor to reduce diffuse pollution, phosphates and sediments entering the river, enabling cleaner water to flow.
Funding for Landscape Recovery will be provided from the government's £2.4 billion annual investment into the farming sector, which is guaranteed for the rest of this Parliament, with every penny of the reductions to farmers' direct payments reinvested back into farming.
Responding to Defra's Landscape Recovery announcement, Country Land and Business Association president Mark Tufnell said: "Land managers across the country are determined to play their part in fighting climate change and nature decline. This funding will help to encourage the design and delivery of innovative new projects alongside sustainable food production – and we strongly encourage our members to engage with this key pillar of the Environmental Land Management schemes."
The Landscape Recovery programme is one of the government's three new Environmental Land Management schemes, alongside the Sustainable Farming Incentive and Countryside Stewardship.
The Sustainable Farming Incentive will pay farmers to adopt and maintain sustainable farming practices that can protect and enhance the natural environment alongside food production, and also support farm productivity.
SFI actions are intended to be universal and straightforward for farmers to undertake in the course of their farming activities. They will produce a wide range of environmental benefits, including improved soil health, cleaner water and increased biodiversity.