Small fruit and an early start to the season are expected this year, but hopes are high for product quality, according to Barfoots' brand and marketing manager Kim Barfoot-Brace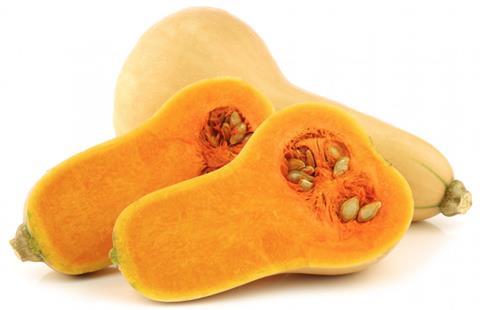 What are the main trends and talking points in the squash and pumpkin category at the moment?
Regarding the supply of squash, labour availability and transport costs were the main challenges last year. This year it's inflation, further complicated by poor climatic growing conditions.
From a consumer point of view, the 'eat your pumpkin' drive at Halloween to reduce waste has definitely been an increasing trend, however this should be approached with caution given the differences between culinary and carving varieties.
With regards to squash in general, there are so many different types that are both eye-catching and delicious. We see a demand for a variety of squash types, with people learning how to prepare different squashes to get the best eating experience from them.
What new varieties of pumpkin and squash have been developed recently and how do they perform?
There are some beautiful new pumpkin and squash varieties being developed. This year we've introduced a number of new culinary pumpkins and one in particular is really standing out. It's performing really well, even in a bad year for weather.
In addition, one of our seed house partners has developed a butternut variety that will grow in the UK which we're trialling with a view to introducing UK-produced butternut squash.
How is the current growing season shaping up?
This is a difficult year because of the unprecedented weather conditions. Pumpkins in the UK are generally dry farmed, which is to say they don't require irrigation. That definitely isn't true this year!
We're expecting small pumpkins and squashes, an early start to the harvest, and lower numbers, despite irrigating our crops significantly. On the plus side, we hope this means fruit will be high quality and we won't have any rot issues.
How is demand for different types of squash evolving in the UK?
During Covid we saw the growth of wholehead sales as consumers had more time to prepare food at home. Now demand is back to normal with conveniently prepared squash performing as well as it did before the pandemic.
The vast majority of pumpkin sales are for decorative purposes at Halloween. Are any efforts being made to market pumpkins away from Halloween?
Whilst we grow and supply a vast number of culinary pumpkins during the Halloween season, we believe from a consumption point of view, other varieties of squash provide a much tastier experience during the rest of the year.