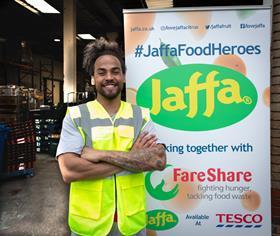 Leading citrus brand Jaffa has teamed up with FareShare and Strictly Come Dancing star Dev Griffin in a bid to raise awareness of food waste and hunger, particularly during the school holidays.
The campaign will see Griffin front a series of short films that showcase the work done by FareShare alongside their partners and distribution network.
The campaign becomes more significant as the academic year comes to a close, with some children facing up to six weeks without the safety net of a school meal.
Campaign ambassador Dev Griffin, who DJs on Heart FM, said: "I am fortunate to be working with Jaffa and FareShare to raise awareness around the importance of avoiding food going to waste.
"Over two million tonnes of good-to-eat food is wasted across the UK each year – enough to provide 1.3 billion meals.
"This campaign is a key tool in highlighting the work that goes on, along with what more needs to be done with regards to the redistribution of surplus food to help those in need across all of society."
FareShare CEO Lindsay Boswell added: "We are thrilled to have the support of Jaffa during this very difficult period for many vulnerable children and their families.
"School holidays should be a time of fun and relaxation for children after a demanding year at school, but for over two million children in the UK it is a worrying time. They are worrying about what and when they will next be able to eat.
"FareShare supports hundreds of children's holiday charities and clubs throughout the summer with food and drink. Jaffa's support is a major boost to help us continue this vital service."
FareShare distributed 132 million meals in the past year. Jaffa continues to support the initiative with monetary contributions along with an on-pack awareness campaign that can be seen across the brands range throughout Tesco stores nationwide.
Further campaigns are planned later in the year to continue raising the awareness of FareShare's work and Jaffa's ongoing support of the organisation.