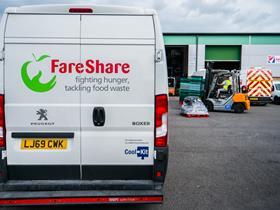 Food redistribution charity FareShare and food sharing app Olio have partnered with major wholesaler Booker to tackle food waste and provide much-needed food to vulnerable people across the UK.
Following a successful trial period with FareShare that launched in 11 of its branches and two distribution centres in January 2021, Booker will continue to roll out the food redistribution scheme across its branches nationwide.
Through the FareShare Go programme, Booker sites are matched with charities and community groups in the local area that collect the items and turn it into food parcels or hot meals for the people they support.
The programme is currently live in more than 100 Booker branches and together the three organisations have redistributed more than 250,000 meals worth of food.
Lindsay Boswell, chief executive at FareShare, said: "We are delighted to be working with Booker to help redistribute its surplus food to our network of charities. We received wonderful feedback from the teams that took part in the trial, and we're thrilled that we're now able to support Booker to get even more food to people in need across the country.
"Demand for FareShare food has more than doubled since the start of the pandemic, and we are delivering upwards of two million meals per week to those in need, so this food is needed now more than ever."
Olio's Food Waste Heroes will also be able to collect food directly from Booker, which will then be added to its app for people in the local area to collect.
FareShare organisations will make the majority of collections from Booker sites, typically five days out of the week, while Olio Food Waste Heroes are lined up to collect on days when charities can't. FareShare and Olio are working closely together to ensure no good food from Booker is wasted.
Tessa Clarke, co-founder and CEO at Olio, said: "Schemes like this are instrumental in helping tackle food wastage across our communities so we are very proud to be involved."
As a wholesaler, Booker offers a range of food items including large catering size packs, vegetables, deli and sandwich fillings, as well as smaller packs of meats, fish and fruit.
Catherine Marston, sustainability manager at Booker, said:'We are really pleased to be partnering with FareShare and Olio.Over the past year we have donated the equivalent of over six million meals to local charities and good causes and this will really help us build upon this success.
"We are proud to be the only wholesaler to have achieved four Carbon Trust Standards in Carbon Emissions, Waste, Water and Zero Waste to Landfill, and are the only wholesaler to hold the Carbon Trust Standard for 12 years.We have got off to a tremendous start and the whole Booker team is looking forward rolling this out to our entire estate."