FareShare delivers four meals every second to struggling UK familes as cost of living bites
The continuing impact the cost of living is having on families across the UK is highlighted by new figures published today (27 May) by FareShare – the UK's biggest charity fighting hunger and food waste.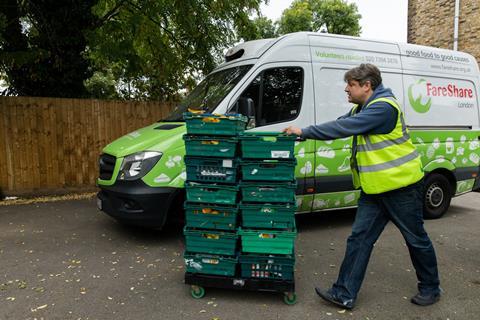 The charity's annual statistics show that between April 2021 and March 2022, it redistributed the equivalent of nearly 2.5 million meals every week to people at risk of hunger. That's four meals every second across the UK.
FareShare takes delivery of surplus good-to-eat food, which is unsold or unwanted by the food industry, sorts it in one of its regional warehouses, and distributes it through a network of thousands of charities and community groups.
These organisations then turn this food into meals for vulnerable families and individuals, many of whom are struggling with unemployment, low income, debt, homelessness, family break up, dependency or other issues.
The latest studies suggest that nearly 13.8 percent of households, including 2.6 million children, are currently struggling to get enough to eat across the UK.
In total, over the last financial year, FareShare redistributed just under 54,000 tonnes of food, the equivalent of nearly 130 million meals. The figures are of a similar level to the previous pandemic-hit year of 2020-21, when FareShare redistributed 55,000 tonnes.
But unlike the previous pandemic year, when FareShare was given two grants by the government to purchase emergency food supplies, the latest figures show that 88% of FareShare's redistributed food is good-to-eat surplus food from across the food industry. The rest is made up from donations of food and food purchased with grants received specifically for this purpose.
A significant proportion of this surplus food is being supplied through FareShare's innovative Surplus with Purpose scheme,which helps famers and growers cover the costs of picking, packing and distributing their good-to-eat unsold or unwanted produce.
In FareShare's recent annual survey of its charities and community groups, nine out of ten said they were being affected by the cost of living crisis. With limited funds, many of these organisations face a continuing struggle for survival.
And that may be borne out by FareShare's annual statistics, which show that the number of organisations receiving FareShare's food over the last 12 months has dropped from 10,500 to 9,500.
But demand for FareShare's surplus food remains extremely high and the average amount of food these organisations received each year actually went up from 5.6 to 5.7 tonnes of food.
Lindsay Boswell, FareShare CEO said: "FareShare's annual impact statistics highlight the ongoing demand for our redistributed food at a time of economic hardship for so many. We know from our recent survey that the cost of living crisis is having a huge impact on families struggling to cope, and the charities that support them. And demand for our food is higher than ever.
"FareShare recently opened its 31st regional warehouse, due to that demand. We have capacity to take much more food and are ready to expand our operations further.
"More than 2 million tonnes of edible food is wasted on farms and in factories every year. That's enough for 1.3 billion meals per year and is scandalous when so many families across the UK are going hungry. But the UK government has removed all funding for food redistribution. So, it's often cheaper for farmers to waste good-to-eat food than get it to onto people's plates.
"With so many struggling to cope, funding food redistribution, and stopping needless food waste, is a no brainer. It makes social, economic and environmental sense. And it's time for the government to act."