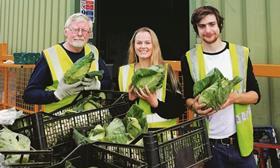 Fruit and vegetable supplier Ferryfast has begun diverting surplus produce direct from its farms in Worcestershire to FareShare, thanks to government funding that has boosted fresh produce supply to the food waste charity.
The partnership, facilitated by food rescue organisation Waste Knot, has so far redistributed 20 tonnes of excess and out-of-spec apples, cabbages, pears and plums to FareShare to support various charities and community groups.
The collaboration follows the release of £4.2 million in Defra funding in May – the first tranche of a £15m government scheme to tackle food waste – to allow redistribution charities to take more surpluses from producers, manufacturers and retailers.
'A turning point for redistribution'
Split between FareShare, Company Shop Group, The Felix Project and Food Works Sheffield, the £4.2m pot has helped make charitable food rescue more commercially viable at farm level, and DGM Growers and Rush Group are among the other producers that now work with FareShare directly.
DGM Growers supplies the charity with end-of-shelf-life and surplus courgettes that might not have otherwise been harvested, while Rush Group has diverted close to 32t of potatoes since coming on board as a partner in May.
"The Defra funding marks a turning point for surplus food redistribution, particularly in the fresh produce sector, which is where we've seen the most growth,"explains FareShare's commercial manager Shula Granville.
"Previously, it cost companies more to divert their surplus food to good causes than to send it to green energy, animal feed or even landfill.
"The funding means we can cover any additional costs needed to keep the food fit for human consumption, for example storage, labour costs and transport."
Not enough focus on farm waste
To date, there has been greater coverage and more sustained efforts to tackle food waste at a retail level, with Tesco central to efforts to make the fresh produce industry more transparent and proactive in reducing waste.
According to Wrap, most food is wasted in the home (7.1m tonnes a year), but after that the bulk occurs at farm level (3.6m tonnes), followed by manufacturing (52,000-160,000 tonnes), with the smallest amount (under two per cent) occurring in supermarkets.
Waste Knot is focused on the beginning of the supply chain and links farmers and logistics providers with foodservice businesses that are prepared to pay for wonky or surplus veg.
Director Jess Latchford stresses that more food waste efforts need to be focused on primary production, as well as retail or household use. "The biggest challenge we face is at the beginning of the food chain but because it is seemingly more difficult to tackle, it doesn't get much coverage," she says.
Making food rescue viable
Latchford praises the first round of Defra funding, explaining how important it is to cover the costs of charitable redistribution for the grower given that there are now more viable commercial outlets for surplus produce, such as supplying wonky veg for retail and foodservice.
She adds that it has been "a bit of a learning curve" working with FareShare since the organisation didn't have much experience dealing with food that wasn't already "good to go".
"With produce that hasn't been harvested yet and has a commercial value it's been a bit of a learning curve. We've basically been helping them work it out a bit," she says.
Logistically, the collaboration has been quite straightforward, however, since both Ferryfast and FareShare have their own fleet of vehicles. In the end, FareShare decided to pick up the produce because it works out cheaper for them to transport it to their distribution centres themselves.
Ferryfast is one of the first producers FareShare has brought on board since launching a £3m fund called Surplus with Purpose in July. The charity's commercial manager Shula Granville says the organisation is "enormously grateful" for the supplier's support.
Vital support for charities
"The impact of surplus food redistribution can't be underestimated," she says. "On average, every charity that receives surplus food from FareShare saves around £7,900 per year, money which is then reinvested back into their vital services. The food also helps these charities to improve their clients' diets."
Ferryfast's Rob Bowers adds that he is "over the moon" with the success of the partnership so far and wants to see "more of the same" going forward.
"We hate seeing fresh produce go to waste and there is clearly a very real problem with poverty and hunger levels in the UK," he says. "It seems criminal for the two not to be linked up. Now that we have a clear working model, we hope to be filling more distribution centres with even more delicious, nutritious produce."
Asked whether he has plans to divert a greater volume of produce to FareShare in future, he adds: "Whatever we have that is surplus, that we think they could use, we offer to FareShare. The idea to increase the volume of fresh produce within foodbanks and charities means there's no limit to the scope and variety that we hope to supply them with."
The supplier's ability to continue could depend on the continuation of government support, however, with the £15m government food waste fund due to end next year.
"There's a set amount of funding available through the current Defra grant and once that goes it'll be up to them how they carry it forward," Latchford explains.