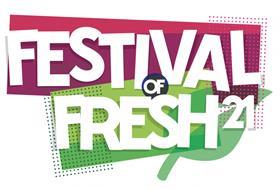 In the year Britain hosts the COP26 climate change summit, the Fresh Produce Journal brought together a group of experts to discuss how growers and suppliers can work towards net-zero production at its inaugural Festival of Fresh online event on Tuesday.
Julian Marks, managing director of leading UK grower Barfoots, said farmers faced a tough balancing act to move towards a more sustainable production model while maintaining profitability and improving yields.
Outlining Barfoots' mission to achieve its goal of achieving a net-zero production for its UK farming operations by 2025, Marks said reducing the use of artificial fertiliser was a key component of the company's carbon reduction strategy.
Barfoots was an early adopter of anaerobic digestion technology, enabling it to become net exporter of electricity to the national grid and produce its own organic fertiliser, thereby cutting its use of artificial fertiliser, which generates 73 per cent of UK farming's greenhouse gas emissions.
Marks said the quest for sustainability had moved regenerative farming up the agenda in recent years, with farmers across the UK following and developing techniques first developed in the 18th century such as reduced tillage, widening crop rotations and growing multi-species cover crops to protect the soil and encourage biodiversity.
"We're also seeing a return to some of the elements of mixed farming, which can have a positive effect on regenerative farming," he said, noting that Barfoots had started looking at how to integrate livestock into its production system where possible.
Another key sustainability challenge, Marks noted, was ensuring that consumers recognise products grown using climate-friendly techniques so that the value of those products flowed back to the farmer.
"Growers, retailers and government need to work together to get to a point where consumers can make informed choices," he said. "We need to create a formal system that gives consumers real insight that they can easily understand."
Marks described how Barfoots had taken the decision 25 years ago to focus its global procurement on produce that had been seafreighted using modified atmosphere, rather than flown in by air.
"Twenty-five years ago, labelling produce 'airfreighted for freshness' was seen as badge of honour. But airfreight generates up to 75 times more greenhouse gasses than seafreight, so we realised this was likely to become unacceptable to a large number of consumers," he said.
Marks noted that it was vital for companies to be able to accurately measure the impact of climate change policies to ensure they made the right decisions.
"The answers are not always what you'd expect," he said. "Sometimes a product grown three miles from our own packhouse can have a higher carbon footprint than something imported from thousands of miles away."
Next up in the Road to Net Zero session was Caroline Drummond of LEAF, who kicked off by noting that 2021 was not only the year in which the UK was hosting the COP26 climate change summit, but also LEAF 30th anniversary and the launch pad of its next 10-year strategy.
This provides the perfect opportunity to focus minds on the challenges facing the global food system, not least how to improve health. Sixty-six per cent of the UK population are now categorised as obese or overweight, costing the NHS an estimated £18bn a year.
"Health experts recommend that fruits and vegetables should make up 50 per cent of our daily food intake, yet they account for just 17 per cent of global agricultural output, "Drummond said, noting that "this fundamental mismatch between what is being grown and what people should be eating presents us with a huge opportunity.
"Today's younger, body beautiful generation – typified by Love Island – want to look good, improve health and have a genuine commitment to the environment. We need to be working with, and inspiring, young people."