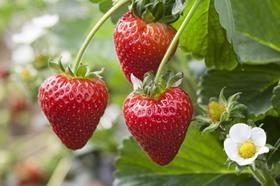 The first Scottish-grown AVA strawberries of the year are arriving at UK supermarkets this week after a delayed start to the season due to poor weather.
Some 74 tonnes of the premium berries will hit supermarket shelves in the week commencing 24 May, and AVA Berries says a delay of several weeks will not affect availability this summer with 1,500 tonnes forecast.
AVA Berries, which were developed through the Angus Soft Fruits breeding programme, are grown by an exclusive group of growers across the north-east coast of Scotland, Perthshire and Fife. The area has an ideal micro-climate for strawberry production.
The brand is sold in the premium lines of various UK supermarkets, including Aldi's Specially Selected, Morrison's The Best, Co-op's Irresistible and Sainsburys' Taste the Difference, as well as M&S.
Jill Witheyman, head of marketing at AVA Berries, said:"Last year was a record season for AVA Berries and we're projecting a 30 per cent increase in volumes grown in Scotland this summer to keep up with the demand.
"We're finding that consumers are seeking out top-quality berries more than they did previously, and are enjoying our AVA strawberries in different ways, whether that is in a salad or a cocktail – or simply straight from the punnet as a healthy snack."
The branded variety is known for its impressive appearance, flavour, texture and shelf life. AVA Berries is urging consumers to check the little white label on the punnet, which shows the variety of strawberries and where they were grown in Scotland.