The salad brand has announced a sponsorship deal with the Food Network and new TV ads to air this summer
Florette, the £40m salad brand, has announced a £1m marketing campaign that will reach 8.6m shoppers this summer.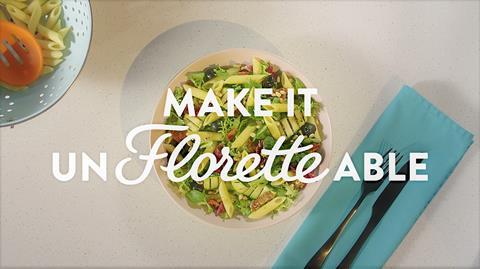 Spearheaded by sponsorship of Food Network, the UK's only dedicated food TV channel that reaches over 5.2 million people each month, the campaign will connect Florette to some of the biggest chefs and food writers in the UK.
The sponsorship will be complemented by a brand-new TV advertising campaign throughout June to August, across 'on demand' service platforms including ITV X, Sky and All 4.
Nick White, head of marketing at Florette UK, said: "As we step into summer, lighter eating with a fresh accompaniment becomes a staple for consumers yet research highlights that most households stick to a very limited repertoire of the same recipes week in week out. Our new campaign will show consumers that Florette can transform their routine, turning the mundane into something tastier and more vibrant, making a dish UnFloretteable."
With over a third of consumers (39 per cent) planning to eat out less frequently, outdoor dining occasions such as BBQs are set to become a big opportunity this summer, thanks to the rising trend of eating and entertaining more at home, he added.
Already selling 31 million packs annually, Florette is poised to help retailers provide shoppers with a fresh and tasty solution this summer, White said.