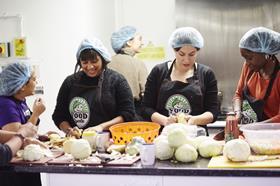 A charity fighting loneliness, hunger and food waste is joining forces with celebrity chefs to launch a digital cookbook aimed at bringing people together and making use of leftover ingredients this Christmas.
'Recipes for Community' will feature vegetarian recipes from the likes of Hugh Fearnley-Whittingstall, Melissa Hemsley andSkye Gyngell, as well aseasy-to-follow favourites from FoodCycle's volunteers.
Dishes will include a roast fennel, new potato and tomato stew; fried eggs, avocado and smoky bean tacos; and slow cooked chard with chickpeas, as well asbanana bread, strawberry crumble and veggie shepherd's pie.
Fearnley-Whittingstall said:"Eating is about more than essential nutrition; it is a vital shared experience that bonds us together and helps to build stronger, healthier communities. That is why I am delighted to contribute to FoodCycle's Recipes for Community campaign.
"FoodCycle is a wonderfully simple idea, using food that would otherwise go to waste to create nutritious, community meals for anyone who wishes to join.
"Sitting down to share a weekly meal may seem like a small thing to some, but food inspires conversations, encourages connection and gives us a chance to forget the stresses of life for a little while."
FoodCycle's chief executive Mary McGrath added: "Over half of those who come to a FoodCycle meal live alone and sadly for some of these guests, it's their only chance each week to enjoy a meal with another person.
"But we know that eating together is important for reducing loneliness and building communities because 77 per cent of guests tell us they have made friends at a FoodCycle meal and 79 per cent feel more part of their community since joining us.
"We therefore hope this collection of delicious recipes inspires others to get cooking, eating and sharing food with their family, friends, neighbours' and communities this Christmas and beyond."
The book can be downloaded from theFoodCyclewebsite for free, but the charity is asking for those who can to make a donation of £3.
All proceeds will go to the organisation, which provides free, weekly meals to vulnerable people across the UK, using food that would otherwise go to waste.