Sysco GB company Fresh Direct has joined forces with food start-up Zess to launch plant-based deli-filler range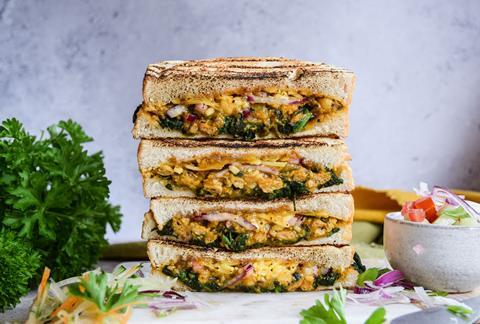 UK fresh produce foodservice wholesaler Fresh Direct has partnered with British start-up Zess to launch Zess Explore, a range of plant-based deli-fillers for the hospitality trade.
Handcrafted at Fresh Direct's specialist production unit Fresh Kitchen in Bicester, the Zess Explore deli-fillers are designed to be used for sandwiches, jacket potatoes, pizza topping, tacos, salads, wraps and more.
Zess CEO Hiren Umradia said the range was created in response to the lack of inspiring, ready-to-serve, plant-based fillings currently available in UK pubs and restaurants.
"We observed a gap in the market for exciting, ready-to-serve plant-based deli fillings, as there are very few options available without the hassle of creating something yourself," he explained. "In busy kitchens, there simply isn't time to develop the exciting plant-based products that people want. This often means that those wanting a plant-based option face boring choices that simply don't inspire them.
"With Fresh Kitchen, we're introducing a game-changing combination of exciting flavours, hand-produced to high standards that are not just healthy, but tantalisingly delicious, through the nation's largest wholesaler, [Fresh Direct sister company] Brakes."
Adam Swan, strategy and commercial director at Fresh Direct, added: "Fresh Kitchen creates fantastic recipes that save time and resource in busy kitchens, so when Hiren came to us with his vision for plant-based deli fillers we were delighted to produce and distribute them. We believe we've created a recipe which isn't just a great plant-based product, it's a product that will proudly stand up to any deli-style filler, catering to vegans, vegetarians and flexitarians."
The ready-to-serve deli fillers bring together a range of premium flavours that have an authentic taste, he said. "The Roasted Sicilian Caponata delivers authentic Italian veggie goodness, with a winning combination of slow-roasted tomatoes, fire-roasted aubergine, capers, basil and black olives. The Chipotle & Corn Veggie Barbacoa is made with genuine Mexican adobo, chipotle chilli peppers, oregano and organic plant-powered protein, giving it a vibrant and smoky, taste profile. And the Sweet Potato & Butternut Dhansak combines authentic spice blends, green chilli and organic plant-powered protein, creating a deep, warm, and fragrant taste profile with creamy and cleansing citrus finish."
The plant-based product range is launching this September via Brakes, with an introductory promotional price of £9.99 for a 1kg tub, before trade discounts.
Fresh Direct and Brakes are Sysco GB companies.