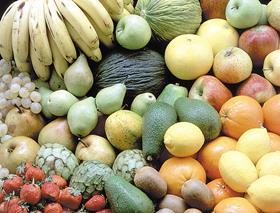 A high intake of fruit in the month leading up to conception results in a higher chance of an expectant mother having an uncomplicated pregnancy.
That's according to new research from scientists at King's College in London, who monitored more than 5,600 first-time mothers from the UK, New Zealand, Australia and Ireland.
The women, who were all having one baby, answered questions about their medical histories and diet. They also had measurements taken, such as blood pressure, and underwent an ultrasound scan between 19 and 21 weeks. Details about the babies were also collected after birth.
The team found that following a healthy diet comprising at least three pieces of fruit every day - as well as maintaining a normal weight and blood pressure- could boost a woman's chances of a smooth pregnancy.
Overall, 61 per cent of the women in the study suffered no complications. The most common reasons for a troublesome pregnancy in the mother were high blood pressure (8 per cent) and pre-eclampsia (5 per cent). In babies, the issues were being small for gestational age (11 per cent) and premature birth (4 per cent).
Dr Lucy Chappell, one of the scientisits behind the study, said: "We have always known that a mother's general health is important, but until now we did not know the specific factors that could be associated with a normal pregnancy."
The study was published in the latest edition of the British Medical Journal.