Grower group launches high-impact winter marketing campaign to promote mushroom vitamin-D benefits as daylight hours dwindle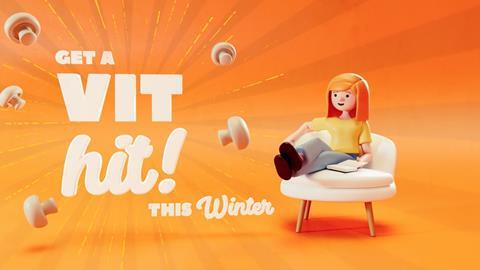 Grower group the UK & Ireland Mushroom Producers has launched a high-impact marketing campaign to shine a spotlight on the vitamin D properties of mushrooms across TV, billboard, press, PR, paid and organic social, digital and web platforms in the UK.
In a bid to increase frequency of sales across Britain, the campaign's core message focuses on encouraging shoppers to up their vitamin D intake this winter by consuming mushrooms.
Anchored around a central creative to 'Get Your Vit Hit with Mushrooms', the fully integrated campaign activity will be amplified across a variety of large-scale mediums, including an informative and vibrant TV advert with 30-second spots around ITV food programming, going live on screens from 12 November to 18 December.
Billboards are going live outside over 400 Sainsbury's, Asda and Tesco supermarkets. To complement, 10 animated LED versions will be positioned across the UK, all with high footfall locations, and within 500m of a supermarket. Two visually driven adverts highlighting the Vitamin D benefits of mushrooms have also appeared in Sainsbury's Magazine, distributed nationwide.
The campaign will also amplify messaging online, through a foodie Influencer marketing partnership in the form of pop-up restaurant activation with trending chef Ixta Belfrage (co-author of the Flavour cookbook with Yotam Ottolenghi).
The UK's first 'Mushroom Boost' menu features three dishes that will provide an autumn dose of much needed vitamin D, available at The Hoxton Southwark's Albie restaurant, throughout November.
A nano interactive campaign is also currently live with striking adverts placed in key food titles such as BBC Good Food, alongside mushroom-based recipes for maximum impact.
Strong social creatives will also appear on owned social channels until early December, with shopper targeted paid media and recipe search retargeting, to drive further online reach and engagement.
Commenting on the campaign's goal, UK & Ireland Mushroom Producers said: "As the days get shorter over the coming months, mushrooms are an easy way to get a healthy dose of the sunshine vitamin D, essential for maintaining our immune systems and helping to reduce stress and anxiety levels – in fact, they are the best vegetable to do so.
"The aim of this campaign is to champion mushroom's great attributes and create awareness of how they can be easily added to meals to boost nutrition this autumn and winter."