Grocery price inflation is at 16.5 per cent for the four weeks to 11 June 2023, the lowest level this year – but still the sixth highest monthly figure since 2008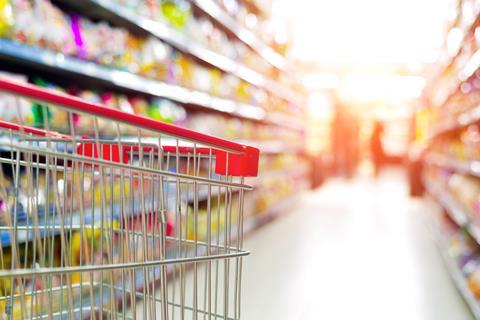 Like-for-like grocery price inflation has dropped to its lowest level since 2022 and now sits at 16.5 per cent for the four weeks to 11 June 2023, according to the latest data from Kantar.
British take-home grocery sales rose by 10.8 per cent over the month in comparison with the same period last year.
Fraser McKevitt, head of retail and consumer insight at Kantar, said: "This is the lowest rate of grocery price inflation we've seen in 2023, which will be a relief to shoppers and retailers. But prices rising at 16.5 per cent isn't something to celebrate and it's still the sixth highest monthly figure in the past 15 years.
"Price rises are now being compared to the increasing rate of grocery inflation seen last summer, which means that it should continue to fall in the coming months, a welcome result for everyone.
"The ongoing squeeze is clearly weighing on the nation's mind. Of the top five financial worries that consumers have, rising grocery prices is the only one that they are more concerned about now than at the start of this year."
Nearly 70 per cent of households are either 'extremely' or 'very worried' about food and drink inflation compared to just over two thirds when asked the same question in January. It remains the second most significant concern, narrowly behind rising energy bills.
Consumers are doing what they can to offset the impact of inflation. McKevitt said: "Savvy shoppers have been continuing to swerve the full force of price increases, with many switching to the cheapest own label lines. Total spending on these value ranges has rocketed by 41 per cent compared to last year and retailers have been quick to respond, expanding their offerings to meet demand. This has helped the value tier to become the fastest growing part of the market every month since June 2022."
Shopping habits are also being impacted by how people choose to eat and cook at home. McKevitt continued: "People are thinking more and more about what they eat and how they cook as the cost of living crisis takes its toll on traditional behaviours. The most prominent change we've seen is that people are preparing simpler dishes with fewer ingredients.
"Our data shows that the public are turning away from their oven and increasingly using microwaves, which reflects the shift to simpler cooking. There were 4 per cent fewer meals made using an oven according to our most recent 12-week data compared to the same period last year, while microwaved meals rose by 8 per cent. We also saw a reduction in hob use and a rise in food prepared with toasters and grills."
Traditionally retailers have priced products at 'round-pound' points, but there is evidence that the cost of living crisis is changing that. McKevitt explained: "The proportion of products sold for £1, the single most popular price for a grocery item, has almost halved in a year from 9 per cent to 5 per cent. That's a big shift. Traditionally, 'round-pound' prices have been attractive to shoppers, who find them easier to relate to and practical as well with no leftover change. But, with retailers eager to offer value and cash buying less popular, £1.25 has emerged as an increasingly important price point. It now vies with £2 as the second most popular price for a grocery item."
Aldi was the fastest growing retailer for the 12 weeks to 11 June 2023. Its sales rose by 24.6 per cent pushing it to a new record market share of 10.2 per cent, 1.2 percentage points higher than the same period last year. Lidl's sales growth was only slightly behind its fellow discounter, increasing sales by 23.2 per cent, giving it 7.7 per cent of the market.
Morrisons' sales rose by 0.8 per cent this period and its market share is at 8.8 per cent. Fraser McKevitt adds: "This was the fourth time in a row that we've seen Morrisons grow. It's a modest rise compared to rivals but there are positive signs for the retailer. Its Morrisons Savers range is Britain's fastest growing value line, nearly doubling sales compared to last year, as consumers turn to own-label."
Sainsbury's and Asda's sales both grew at 10 per cent over the past 12 weeks, ahead of the wider grocery market. They now account for 14.9 per cent and 13.7 per cent of total sales respectively.
Britain's largest retailer, Tesco, saw its sales increase by 8.9 per cent, as it achieved a 27.1 per cent market share. Co-op's sales rose by 3.8 per cent giving it a 5.8 per cent market share. Following a 3.3 per cent rise in sales, Waitrose now holds 4.5 per cent of the market leading Iceland and Ocado on 2.3 per cent and 1.7 per cent respectively.