Almost 50% of apple packs on UK supermarket shelves in October and early November were imported, according to surprising new research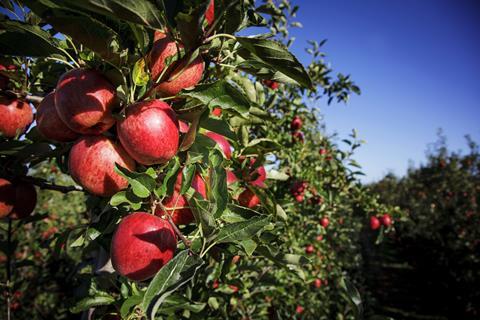 Despite most British supermarkets pledging support for local farmers, new analysis has revealed that 48% of apple packs on shelf in October and early November were imported.
The research from by Market Intelligence Services (MIS) looked at the number of British apple SKUs in 13 supermarkets compared to SKUs from the rest of the world over a seven-week period from 3 October 2022 to 14 November 2022.
Even after excluding varieties that are not typically grown in the UK, only one supermarket (Iceland) was selling 100% British packs.
At a time of peak British apple availability, none of Britain's six biggest supermarket chains had more than 65% British packs on shelf, with Asda only managing 23% British, and Morrisons stocking just 53% British apple packs.
"Recently, we've been getting messages on our social media channels from consumers saying they were struggling to find British apples. This concerned us and triggered this research," explained Ali Capper, executive chair of British Apples & Pears Limited (BAPL).
"It's peak British apple season; the supermarket shelves should be full of our amazing new season British fruit. However, retailers don't seem to be listening to what consumers want.
"Across the top six supermarket brands analysed, only 52% of the apple SKUs on shelf were British. Imported apples were coming from as far away as New Zealand and South Africa, as well as Italy, Spain, France and Belgium.
"Why are we importing so much fruit, with the associated food miles, when British apples are at their peak?"
Capper added that the findings make "tough reading for hard-working British apple growers".
"In the face of extraordinary inflationary pressures, we need supermarket support more than ever," she stressed. "Consumers can only buy the fruit they want if it's offered to them. It's time the supermarkets did more than talk about support for British farmers and demonstrated it by paying a fair price and packing their shelves with our amazing British produce."