Roundtable meeting addresses seasonal labour challenges following difficult year for recruitment and worker welfare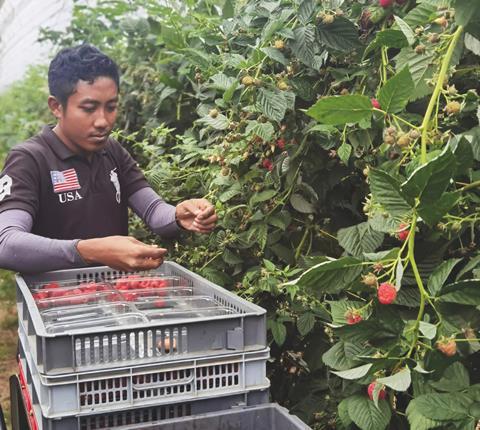 Fresh produce growers affected by seasonal labour shortages and allegations of worker exploitation by unlicensed brokers have united to produce a Growers' Charter on recruitment and worker welfare, as well as requesting better support from government.
The gathering of growers, government-approved recruitment agencies, and other key stakeholders met in London last week to discuss how to address the challenges associated with overseas recruitment – including concerns over the welfare of migrant workers.
With producers under pressure to confirm their labour requirements ahead of Christmas for the upcoming season, there is a sense of urgency to instigate change and ensure seasonal workers have not been exposed to any corrupt or exploitative practices – such as paying fees or loans to third-party operators in their country of origin to secure a job in the UK.
Equally, the growers and recruitment agencies acknowledged the need to unite and be more proactive in promoting best practice.
The roundtable was hosted by Clock House Farm at the Farmers Club in south-west London. Clock House said it provided a forum for constructive debate and was an opportunity to identify initiatives to improve outcomes for future seasonal workers.
All attendees agreed to consider the following four priorities:
Growers to produce a Growers' Charter detailing guidance spanning a number of areas including recruitment protocols, minimum hours, the standard of accommodation, and other welfare matters.
Operators to underpin their commitment to responsible recruitment with a formal public declaration.
All parties to agree a list of requests to government designed to improve the current Seasonal Worker Scheme. These include more flexibility regarding the amount of time workers can stay in the UK, and earlier decisions on the total number of workers permitted under the scheme.
The introduction of a generic campaign theme or brand to support the above recommendations.
Oli Pascall, managing director of Clock House Farm, said: "It was encouraging to see such an enthusiastic response to this initiative and to witness the genuine commitment that exists to work collaboratively to seek out improvements.
"These improvements will benefit all parties, especially our prospective staff, but at the same time will offer added reassurance to our customers, the retailers.
"While some of the past media attention may have chosen to focus on individual growers, this is clearly an industry-wide issue that demands a response which takes into consideration feedback from across the whole supply chain.
"As growers, we are keen to join forces to protect our industry and to put in place some immediate measures designed to initiate change in the short-term alongside other more long-term aspirations."
The move follows an investigation by The Guardian this summer into potential debt bondage among seasonal workers from Indonesia, who were reportedly saddled with debts of up to £5,000 by unlicensed foreign brokers to work in the UK for a single season.
The berry pickers were recruited during the scramble for seasonal workers that followed the outbreak of war in Ukraine.
Russia's invasion in February greatly exacerbated the seasonal labour challenge, forcing recruitment agencies to change tack and source pickers from further afield at very short notice.
Last year, almost 20,000 Ukrainians came to Britain on seasonal worker visas, making up two-thirds of arrivals.
In 2022 there was a reported rise in farm workers arriving from additional countries, including Indonesia, Vietnam, the Philippines, Nepal, Kyrgyzstan, Kazakhstan, Uzbekistan, Tajikistan, Mongolia, Serbia, Macedonia, Albania and Bosnia.
The meeting in London was chaired by Peter Carroll, a former special advisor to the treasury and the architect of the Gurkha Justice and Fair Fuel UK campaigns.
In total, 23 delegates attended the roundtable, including: fruit growers; recruitment agencies approved by the Home Office to source workers under the Seasonal Worker Scheme; representatives from the NFU, HTA, British Berry Growers and Berry Gardens; and the CEOs of the Association of Labour Providers (ALP) and Stronger Together, both of whom promote the importance of responsible worker recruitment, their right to fair treatment, and the need to abolish exploitation.
ALP chief executive David Camp said: "There is still much work to do to ensure that all seasonal horticultural workers have a positive recruitment and working experience on UK farms.
"To drive these improvements, effective collaboration is needed between recruiters, growers, NGOs, supermarkets and government. I welcome this initiative and commitment from growers and look forward to working together to achieve this."