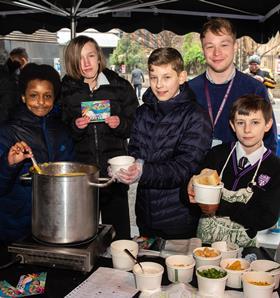 Schoolchildren have been learning about cooking and food waste at the annual Young Marketeers' Winter Sale at Borough Market.
The event, which took place on 4 Febuary, featured pupils from four schools in the Southwark area, who took to stalls at the London market tosell their own waste-free homemade soups using surplus vegetables, with freshly baked bread.
The Winter Sale was held as part of Borough Market and School Food Matters' Young Marketeers programme. Now in its eighth year, the programme teaches students about food and cookery as well as giving them the entrepreneurial skills to market and sell their goods on a real-life market stall, thanks to advice from the market's traders.
The pupils attended two workshops earlier this year and have since been working on developing their own recipes. The first workshop was held at The Cookhouse in Borough Market, teaching the students how to make two different vegetable-based soups using seasonal produce. The second took place at Bread Ahead Bakery, where they learnt how to make warm ciabatta loaves.
As part of the programme, the children gain an understanding of food poverty and waste in the UK with all funds raised from the sale going to redistribution charity FareShare. The children visited FareShare's London depot to see the surplus produce and learn how it can be used to create delicious meals. They then collected surplus vegetables to make their own soups at school.
The Young Marketeers sold their freshly made produce in the Green Market, home to the Borough's Food Futures Market - a programme that supports start-up traders seeking to address the food world's most compelling challenges.
Hatty Cary, community engagement manager at Borough Market, said:"With topics such as waste and climate change high on the agenda for young people – particularly in the last year – events like this are becoming increasingly important for the next generation of Londoners.
'By teaching young people where their food has come from, how to grow it and what to make with it while also giving them an awareness of food waste, we hope to inspire young people to take a more sustainable approach to their food in the future."