LEAF launches ground-breaking new project with Co-op Foundation to help five farms speed up their jouney to net zero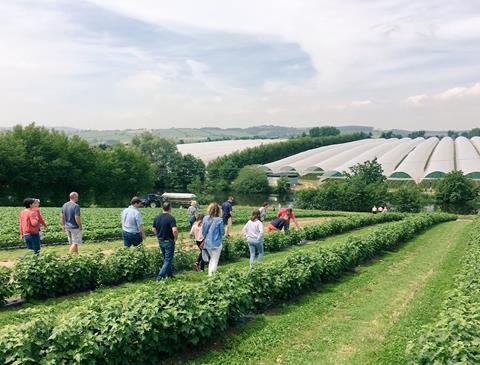 Five pioneering farms across the UK and overseas will be accelerating and demonstrating their journey to net zero, in a new ground-breaking project led by sustainable farming organisation LEAF (Linking Environment And Farming) and supported by the Co-op Foundation, through the Co-op Foundation's Carbon Innovation Fund.
The three-year project will see the selected farmers develop and implement a range of sustainable, integrated farming practices suited to their own farms, focusing on soil, water, air and nature to gain a better understanding of the levers for change for addressing net zero and environmental enhancement. They will receive an ongoing programme of training, mentoring and technical support from an external consultant and LEAF, with a focus on reducing greenhouse gas emissions.
The farmers will also be working towards joining the LEAF Network as its first Net Zero Demonstration Farms to act as hubs for training and inspiration for other farmers as they begin their transition to net zero.
The farms represent a wide range of enterprises, farming systems and management practices and include a tenanted dairy farm in Devon, a mixed organic farm on the Scottish borders, a traditional Cumbrian upland family farm and a large commercial vegetable producer farming land from Norfolk to Inverness. Also joining the team is a family run business in Northern Limpopo, South Africa which aims to become LEAF's first international Demonstration Farm.
Commenting on the announcement Vicky Robinson, LEAF technical director said: "The farming industry is facing huge challenges, with climate change at the forefront. With ambitious industry goals to reach net zero by 2040, this ground-breaking project will support these forward-thinking and innovative farmers with the tools, training, and technical know-how to work towards these targets, collaborating and learning from each other. Moreover, this project provides the five farmers with the opportunity to showcase how their Integrated Farm Management practices align with more sustainable and regenerative farming and crucially, they will act as important hubs for knowledge exchange and development as they go on to become our first net-zero Demonstration Farms."
"Farmers hold a unique power to be an innovative part of the solutions to climate change. We are hugely grateful for the support of the Co-op Foundation which will enable us to drive forward more climate positive farming and food systems for the future health of our planet."
LEAF technical officer Pilar Pampin added: "We are super excited to be working with such an inspiring team of farmers, who together will make a huge difference. From small family farms to large commercial operations, our selected farmers represent a variety of enterprises and experiences, all with their own ideas, motivations, and innovations. What unites them all is that they are all working towards the same net zero goals, and we will support our farmers with the management tools, training, and advice to help achieve these goals."
"This important project will unlock the journey to net zero with our five spotlight farms at the forefront of inspiring change. We cannot wait to get started."
Throughout the project, the participating farmers will be sharing their journey through on-farm events, training, workshops, and social media.
LEAF (Linking Environment And Farming) is the leading organisation delivering and promoting Climate Positive, thriving, resilient and exemplar agro-ecological farming at an increasingly global level. Working with farmers, the food industry, scientists, environmentalists, teachers, young people, and consumers, we are looking at new ways to deliver productivity and prosperity among our farmers, enrich the environment and engage young people and society in a valuable and meaningful way.
The LEAF Marque is a global environmental assurance system recognising more sustainably farmed products. It is based on the sustainable farming principles of Integrated Farm Management (IFM), which covers areas such as soil and water management, pollution control, crop health, animal welfare, community engagement, energy efficiency and landscape and nature conservation. LEAF Marque businesses are independently assessed and certified against the principles of IFM.
LEAF promotes Integrated Farm Management (IFM), a whole farm business approach that delivers more sustainable farming. IFM uses the best of modern technology and traditional methods to deliver prosperous farming that enriches the environment and engages local communities.
LEAF Demonstration Farms are commercial farms which show the beneficial practices of IFM to a broad range of audiences through organised visits. They communicate an understanding of IFM to encourage uptake by farmers, support from the industry and political awareness of sustainable food and farming. The network of LEAF Demonstration Farms includes a range of farm businesses across England and Scotland. They work alongside the LEAF Innovation Centres.
LEAF Innovation Centres are research organisations whose work supports the research, evidence, development, and promotion of Integrated Farm Management. They investigate and communicate practices which underpin the continual improvement of the Integrated Farm Management approach to help deliver more sustainable food and farming.