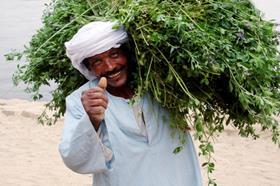 Lancashire-basedLevityCropScience has appointed a distributor in Egypt, eyeing new sales opportunities for its 'smart fertilisers' in the Middle East and North Africa.
The company says its products are well suited to helping improve crop production in arid climates, and in Egypt their focus will be on major export crops, including grapes and potatoes.
The Egyptian distributor,United Group of Agencies Agricultural Development Co, will marketLevity's full six-product range: Lono, Lono Plus, Sulis, Albion, Indra and Damu.
These fertilisers are designed to increase yields in fruit and vegetables, as well as improving quality and resilience inpotatoes, softfruit,top fruit, bananas,protectedcropsandleafy vegetables.
Egypt is an important exporter of potatoes, a crop in which Levity products have been proven to increase yields by$1,000 per hectare in independent field trials.
David Marks, managing director of LevityCropScience, said: "The Middle East and North Africa is a strong growth market for Levity.
'Egypt is a market where we anticipate large volume sales and we are looking forward to working with Mahmoud and his team to help Egyptian farmers get the very best from their crops.
"This is the first of our distribution appointments in the MENA region that will be announced during 2017.
"Levity products help crops cope with high temperatures and poor water. They also help increase yield and quality in challenging growing conditions, which is helping drive strong interest in the region".
He added: "We're delighted to be increasing the volume of our pioneering products across the globe. There is a clear demand for our high quality, yield increasing, smart fertilisers in the export market."