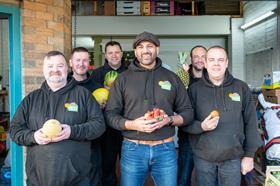 The local food movement is taking hold in many parts of the UK but perhaps nowhere is it more pronounced than in Cambridge, where sourcing produce from local farms, supporting small family businesses and limiting your impact on the planet are top priorities for the city's shoppers.
Cambridge Fruit Company
"Cambridge has a strong culture of supporting local," says Neil Bharadwa of the Cambridge Fruit Company – a small but growing business that during the coronavirus pandemic switched from delivering fruit to the city's offices to offering home deliveries of fresh produce.
"It's a funny place in some respects," he adds. "It's quite unequal in terms of earnings, and we've got some of the poorest pockets, as well as a really affluent, well-educated middle class with lots of techies, scientists, and academics."
It is the city's highly educated, well-heeled workforce that has been most keen to (and sometimes most financially able to) show support for local food suppliers, Bharadwa believes, adding that their shopping behaviour is strongly influenced by environmental concerns and the desire to reduce food miles. "In one of our surveys during lockdown the top answer we got from customers about why they were using us was to support local because they didn't want to see small family businesses going under."
The Cambridge Fruit Company doesn't deal directly with growers but one of its larger local suppliers in the city does, and Bharadwa says he tries to get his hands on locally grown produce wherever possible. In addition, he has started working with a range of other local independent producers.
"The pandemic was brilliant in terms of sales but then suddenly it went quite quiet and we were trying to figure out what was going on," he recalls. "We sent a survey to our customers and found out that our customers wanted more choice."
For most of lockdown the supplier was preparing fruit and vegetable boxes with fixed contents, and as lockdown restrictions and coronavirus fears started to ease, customers started returning to supermarkets where they had much more choice.
"We started working on a website to allow shoppers to pick and choose their fruit and veg rather than having to buy a fixed box, and there were loads of other local independent food producers that wanted to get involved," the greengrocer says. "So we've put them all together on one platform."
Now, as well as fresh fruit and veg, the company delivers meat from a Cambridge butcher, cheese from a cheesemonger, juices from a local juice manufacturer and Chelsea buns from Fitzbillies, a famous bakery in the city. "It's really challenging because we don't have room here to hold all their stock, so we're using a just-in-time model. It's going really well though and we're getting new ideas all the time about adding new products like flowers, ready-made cocktails, all sorts of things."
Importantly, the business has seen its sales start to grow again, and order values are "going through the roof", but ultimately the business is about the same size as it was before lockdown when it served a very different market.
"It was mainly about not going under – stopping the losses, keeping going and then building on that," says the greengrocer. "But if and when the old business comes back – the schools, the restaurant, the offices – the business will be much bigger."
Bharadwa says the biggest positive for the business during lockdown has been its charity work, however. The business continues to deliver donated veg boxes to elderly locals, low-income families and NHS workers who have been struggling to get the fresh produce they need during lockdown.
Do-gooders as far away as New Zealand have been purchasing boxes for delivery to either hospitals or vulnerable children and their families through a local charity called the Ren Hen Project, which does valuable work to help pupils at five primary schools in the north of the city overcome barriers to learning.
Cambridge Organic Food Company
Another company offering fruit and veg boxes in the city, the Cambridge Organic Fruit Company (COFCO), has had a slightly different experience during lockdown. Whereas the Cambridge business was one of many suppliers moving into home deliveries, and ratcheting up competition in this market, COFCO is something of a stalwart in this field.
The company's owner Duncan Catchpole has run the organic food delivery scheme in the city for the past 22 years, and he doesn't just sell fruit and veg, but also eggs, bread, coffee and various other organic products.
"It's not that there isn't plenty of trade to go around – we've doubled in size (both in terms of customer numbers and sales) since the start of coronavirus – but we've also found ourselves in a really competitive marketplace," he says. "The lord giveth and the lord taketh away."
The COFCO service is similar to that of nationwide organic veg box schemes, such as Riverford Organic and Abel & Cole, and the company's USP is that it predominantly sources produce from farms that are local to Cambridge. Receiving produce direct from a dozen local farms, as well as a couple of nationwide wholesalers, Catchpole's emphasis on local sourcing is even stronger than Bharadwa's.
"Local sourcing is really important to our customers and there was a time even when you'd say that local was perhaps an even greater selling point for us than organic," says the COFCO owner. "The population of Cambridge is quite knowledgeable about some of the issues that concern the food industry, for example environmental sustainability, and they appreciate sustainable food production methods and sourcing."
As well as placing high value on environmental sustainability, the company tries to be ethical in all its practices. Catchpole's business was the first food business in Cambridge to get a living wage accreditation back in 2014, and the following year he won the Living Wage Champion Award for the East of England.
Practices like this have made the business a firm favourite of many local shoppers, so much so that 20 of them stepped forward, without incentive, to help the business through a hectic period during full lockdown. "If we'd taken on all the new customers that wanted to register, we would've quadrupled in size, and mid-morning on the first day of lockdown we had to close our online ordering system," Catchpole recalls. "It was just going insane."
To manage the situation, and make sure vulnerable people were prioritised when allocating the delivery slots, COFCO put in place an initiative that it called its Community Angels scheme. "We had about 20 of our longstanding customers dotted around our delivery area acting as our eyes and ears within the local community, making a judgement on who they considered to be most in need of our service."
Now, as life slowly starts to get back to normal, Catchpole is turning his attention to running a new project, the Cambridge Food Hub, which is all about linking local growers with commercial buyers.
The initiative emerged from the Sustainable Food Places network, a partnership programme led by the Soil Association, Food Matters and Sustain, which brings together areas in the UK that are driving innovation and best practice on all aspects of healthy and sustainable food. These include reducing food waste, tackling food poverty and trying to make it easier for small independent food businesses to start up.