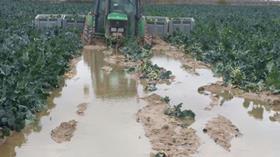 Flooding, higher food prices and water shortages are among the "urgent" risks faced by the UK due to climate change, according to a major climate change assessment report.
It calls for urgent action to tackle risks, which include too much or too little water, increasing average and extreme temperatures, sea level rise, and rising food prices due to shortages.
The risks were graded according to where most urgent action is required, with flooding risk to infrastructure and businesses, as well as water shortages in agriculture, energy and industry listed under 'more action needed'.
The report is published by the Committee on Climate Change (CCC) for the government once every five years and provides an authoritative scientific assessment of climate change risks to UK. It is the result of more than three years of work involving hundreds of leading scientists and experts from the public and private , and was peer reviewed by UK and international specialists.
Defra minister Lord Gardiner said: "Our changing climate is one of the most serious environmental challenges that we face as a nation and that is why we are taking action, from improving flood defences across the country to securing our critical food and water supplies.
"The latest assessment will help us develop our long-term programme to tackle these risks so we can continue our work to protect the nation better today and for future generations."
The CCC's findings are echoed by a similar report published yesterday (25 January) by the European Environment Agency (EEA) report, which said Europe's regions are facing rising sea levels and more frequent and more intense heatwaves, flooding, droughts and storms.
Southern and south-eastern Europe is set to become a climate change "hotspot", and is expected to face the highest number of adverse impacts, the EEA said.
The two reports come as Spanish and other European fresh produce suppliers are facing one of the most difficult supply seasons in recent history, with heavy rain and snow crippling yields on key salad and veg lines.
Chairman of the CCC, which published the UK report, Lord Krebs, said: "The impacts of climate change are becoming ever clearer, both in the United Kingdom and around the world. We must take action now to prepare for the further, inevitable changes we can expect.
"Our independent assessment today, supported by the work of hundreds of scientists and other experts, identifies the most urgent climate change risks and opportunities which need to be addressed. Delaying or failing to take appropriate steps will increase the costs and risks for all UK nations arising from the changing climate."
In response to the reports, Green Party co-leader Jonathan Bartley said: "Standing up to climate deniers has never been more important – even if they hold some of the most powerful positions in the world. The actions Donald Trump takes in the US will directly impact our lives in Europe.
"The EEA report makes for terrifying reading, but it's also an opportunity for Europe to develop effective strategies for tackling greenhouse gas emissions and for Britain to step up and lead the way on transitioning to a zero carbon economy."