The fresh produce department needs a complete makeover to combat falling sales, according to the UK's top fruit supplier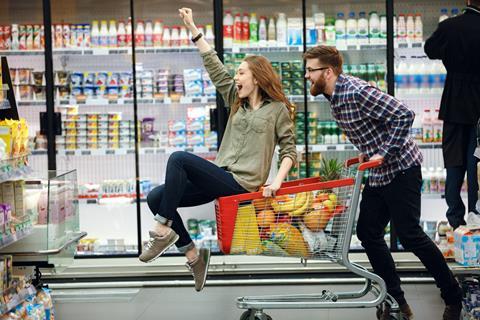 Supermarkets' fresh fruit aisles must be made more appealing to drive consumers to the category and reverse falling sales, says the UK's top fruit supplier to retailers.
Speaking at Festival of Fresh 2023 on 21 June, AMFRESH's insights director Carolina Palomo said fruit consumption is down this year in the UK (-7 per cent), US (-4 per cent), Spain (-12 per cent) and Germany (-15 per cent) largely because shoppers regard fruit as something they must eat for health reasons, and not something they want to buy.
"We need to change fruit consumption from a chore to an experience. We need to make it sexy," Palomo told the Festival of Fresh audience gathered outside AMFRESH's new facility near Huntingdon, Cambridgeshire.
Since 44 per cent of fruit purchases at retail are an impulse buy, there are many opportunities to drive sales if retailers interact more with shoppers in-store via product placement, displays and packaging, she said.
"Selecting fruit is a five-step process for consumers: they see, scan, spot, show interest then select. We can therefore interact with a lot of different customers at every level of this process. We need to change the category to make it sexy," Palomo said.
"We have the best products in the store, yet if shoppers don't see it, they won't buy it. For example, 56 per cent of people eat fruit as a snack during the day. But are these snacking fruits located in the best place? Are they packaged conveniently for snacking?
"UK shoppers say that apples (41 per cent), bananas (39 per cent) and grapes (35 per cent) are the most snackable fruits, but we all know loose apples aren't performing well in UK supermarkets compared to other countries. So what about a small pack of two? Think about how people are eating fruit and target that," Palomo said.
"Give consumers solutions. Make it easy for them to shop. 80 per cent of consumers use fruit as part of a recipe, so inspire them with recipes. Shoppers are looking for a healthy dinner. They buy solutions, not products."
Heavy shoppers use fruit in many different ways compared to the light shopper, so supermarkets need to interact with these consumers too with easy and fun eating options, she continued.
"Drive additional uses to convert light users into heavy users. Create content to encourage customers to use fruit in different ways via on-pack recipes, in-store signals and online recipes. Prioritise fresh recipes vs cooked ones, and use cross-merchandising opportunities," said Palomo.
Palomo's other recommendations included: guiding shoppers to find new things in store; highlighting new seasons; changing the location of fruit items; target families with children with suitably packed and marketed fruits.
"The supermarket shelf is not easy to navigate. There are 20 different apple varieties, yet many shoppers don't know the difference between them. We need to talk about flavour and uses, not varieties, to convince them to eat more," she said.
Price is not the only trigger to get produce into the shopping basket, Palomo added. "Price and quality are equally important to the heavy fruit shopper, so highlight the great quality you have with the product, and the colours.
"There is an opportunity to convert fresh fruit into a destination to drive everyday appeal. But you need to go through these five stages so the category is sexy and interesting, so it's not boring," Palomo concluded. "You need to interact with customer. And remember the rules, if they don't see it, they don't buy. Offer solutions, not just fruit. Guide shoppers through the different quality tiers, and combine flavour next to use. Price matters, but it's not the only trigger to purchase. You need to sell an experience, not just an apple."