M&S Food donates one million fresh and healthy meals to families in new partnership with FareShare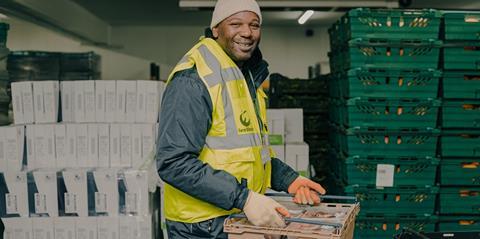 Marks & Spencer has announced a new partnership with FareShare, the UK's largest charity fighting food insecurity and waste.
Working with one of its biggest fresh food suppliers, 2 Sisters Food Group, M&S will donate one million freshly prepared, nutritious ready meals from its 'Eat Well' range in the eight weeks leading up to Christmas, the retailer said yesterday (1 November).
In an industry first, the meals will be made at three 2 Sisters Food Group manufacturing sites and donated to FareShare directly from the M&S Food supply chain, it added.
M&S have worked with FareShare to carefully select three of their most popular, seasonal 'Eat Well' products, which hold the M&S "gold standard" seal of approval for health and nutrition. The meals include winter warmers such as the Count On Us Chilli Con Carne & Rice (390g, £4.25) and Smooth Tomato & Basil Soup (600g, £2.90), as well as a delicious and fun option for kids, the Taste Buds Cheesy Pizza (95g, £1.60). All meals will be freshly prepared with a guarantee of four days life from the day of donation.
The partnership builds on M&S' food redistribution scheme with their long-standing partner, Neighbourly which over the past seven years has donated more than 60 million products – products which are too good to waste - to more than 1,450 local charities and community organisations.
Alex Freudmann, managing director of M&S Food commented: "Making great quality, delicious and nutritious food is what we do at M&S Food and its hugely important to me that we make this as accessible to as many families as possible. So I am hugely proud that we are coming together with our supplier partners and supporting FareShare by flipping our mindset from using food that is too good to waste to innovating to use capacity that is too good to waste. So everyone can have access to a fresh, hot and healthy meal produced just for them. This donation is just the start and in the coming months we'll be expanding this work to support more families who find themselves in need of a bit of extra help this winter."
George Wright, CEO at FareShare added: "We're incredibly grateful for the support from M&S who, by providing a million meals, will help so many people struggling at this time of year. Demand for our food has skyrocketed, and the 8,500 charities we provide food to have seen firsthand how more and more families and working people have been forced to seek help. Food insecurity, which currently effects one in four people, fuels both hunger and loneliness. The charities we support, which include homelessness shelters, afterschool clubs, and older people's lunch clubs, will be working harder than ever this winter. We're proud to be part of this partnership with M&S and 2 Sisters Food Group, helping get more food to people in need, strengthening communities across the UK."