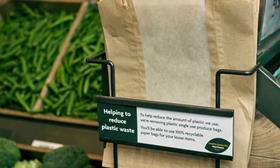 Morrisons may have brought back brown paper bags for loose fresh produce but the decision has been met with scepticism by some environmental experts.
The switch to 100 per cent recyclable paper bags, which the supermarket says will avoid the use of 150 million small plastic bags a year, comes in response to rising public concerns about plastic waste.
But a report by the Environment Agency in 2011 found that if you consider the entire life cycle of paper bags, including production, use and disposal, they contribute to global warming more than plastic ones.
They would need to be re-used at least three times to avoid having a higher impact, the 2011 report concluded.
Waste and recycling research charity Wrap told The Guardian that the findings still applied today, with climate change expert Chris Goodall saying the switch back to paper was "a retrograde step".
He argued that although plastic has a damaging impact on marine life, most of the plastic in the sea comes from a small number of rivers, not from buying fresh produce at the supermarket.
Goodall also pointed to the fact that using paper bags can shorten the life expectancy of fresh produce, with more waste produce going to landfill where it produces the damaging greenhouse gas methane.
Despite this, Friends of the Earth told The Guardian that it welcomed the switch to paper bags since climate change is not the only environmental issue to consider.
Julian Kirby, a campaigner for the NGO, told the newspaper that when it comes to health concerns and pollution, paper bags are a better option.
"The thing about climate change is because it's such a huge worry it has eclipsed other very serious environmental and health concerns, and that would include … pollution," he said.
"With a paper bag, if it escapes into the environment it will biodegrade very soon. That is not the case with a plastic one."
Morrisons said it was aware that paper, as well as plastic, has an environmental impact, but a spokesperson told The Guardian: "We have listened to customers and they are telling us that the overuse of plastic is the most important environmental issue for us to deal with."
The paper bags were rolled out across stores from 25 June and will reach all 493 stores by the end of the summer.
The move follows an initiative allowing customers to bring their own containers to Morrisons' meat and fish counters in return for 100 loyalty card points.