Fresh produce supplier Nationwide celebrates donating the equivalent of 500,000 meals to FareShare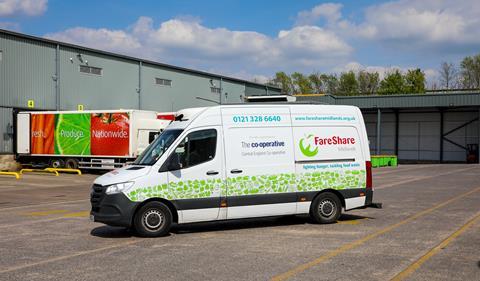 Evesham headquartered fresh produce distributor Nationwide Produce is celebrating hitting its 500,000-meal milestone with food charity FareShare.
Since partnering in 2020 with FareShare, which redistributes good food that would otherwise go to waste to 9,500 UK charities supporting people in need, Nationwide said it has donated 217 tonnes of fresh produce – the equivalent of 500,000 meals.
"We are proud to have hit such a monumental milestone over the last three years via FareShare," said Scott Hollins, managing director at Nationwide Produce Evesham. "We have always been happy to help and support them, especially since the cost-of-living crisis. We are focused on continuing to make a positive impact and we are excited to continue our ever-evolving partnership with Fareshare."
Ben Read, commercial officer at FareShare, added: "The cost of living crisis has seen demand for our food skyrocket, as millions of people in the UK are being pushed into food insecurity. We're incredibly grateful for the support and efforts made by Nationwide Produce to help us get good-to-eat, surplus food to people who need it."
Established in Southport in 1975, Nationwide Produce PLC started life as a local produce merchant and today is one of the largest produce distributors in the UK. Covering all sectors of the market – food service, catering, processing, wholesale, export, and retail – it supplies a full range of vegetables, fruit and exotics from around the world to customers in the UK and Europe.
FareShare is the UK's biggest charity fighting hunger and food waste. It takes good-to-eat surplus food from across the food industry, sorts it in its regional warehouses across the UK, and passes it onto a network of nearly 9,500 charities and community groups. These include food banks and pantries, hostels, refuges, community centres, older people's lunch clubs, school clubs and hospices.
During the last financial year, 2021-22, FareShare said it redistributed nearly 130 million meals - the equivalent of four meals every second.