New Covent Garden Market is helping to educate London student chefs about British fruit and vegetables by supplying free seasonal produce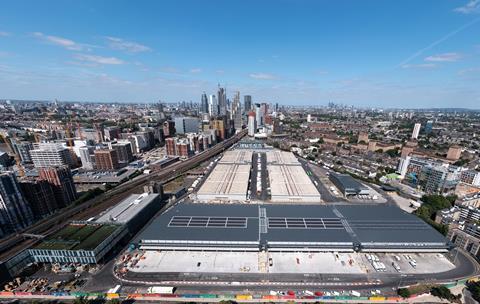 Wholesalers at New Covent Garden Market (NCGM) have been helping to educate the next generation of top-level British chefs about homegrown fresh produce this year.
The award-winning Westminster Kingsway College (WestKing), in Victoria, London, is responsible for training many of the capital's top chefs, with the vast majority of their fruit and veg sourced from the London wholesale market, just a mile away in Nine Elms.
But since the start of 2023, NCGM has provided a free supply of selected seasonal British fruit or veg each month to students at WestKing's School of Culinary Arts and Hospitality in an effort to give them a greater understanding of that specific product.
As well as produce, NCGM has supplied students with a monthly fact sheet with growing and nutritional information on each product, the grower and its supply chain.
The free produce is provided by DDP Ltd, one of the market's leading distributors for the catering trade.
In January, the main product was January King cabbage, grown by DE and DM Drinkwater, a long-established family business at Washbrook Farm, Ebrington, in the heart of the Cotswolds. In February, the Yorkshire Forced Rhubarb was grown by Annabel's Deliciously British, in Micklefield, near Leeds in West Yorkshire. In March, the Bramley Apples were grown by Goodale's in Walsoken, Wisbech, Cambridgeshire. In April, Chippies Choice potatoes grown in areas including Cambridgeshire and Suffolk and Lincolnshire were the order of the month. In May, the student chefs were working with baby spinach from Kent and Sussex. In June, refreshing and versatile mint grown in southern England was on the plate's in the College's restaurants. And as the students prepared for their summer break, in July, Annabels Deliciously British was again the supplier of choice for homegrown strawberries, from Yorkshire.
Paul Grimshaw, who owns and runs DDP Ltd, says: "We try to push British produce wherever we can, because there are obvious benefits in terms of where this produce comes from and the low mileage. It's also good for the economy and often tastes better. We work with all of our customers to ensure that they are constantly as up-to-date as they want to be about seasonal fresh produce and how it can benefit their menus, so working with the student chefs is really an extension of that.
"At the beginning of the year, we devised a schedule which gives them opportunities to work with a diverse range of fruit and vegetables from a variety of sources. There is a big focus on seasonality and sustainability and a lot of the product has been British, but we've also provided them with some imported product, for example pomegranates in January, to let them know about how the supply chain works more broadly.
"I think it's part of our duty to equip these chefs-in-training with this type of knowledge. When they become the star chefs sometime in the future, their appreciation for the environment and the seasons should make all their jobs all the more easier. It's about planting the seed and we're delighted we're in a position to do that."
At WestKing, José Souto, senior chef lecturer in culinary arts, has a close relationship with Grimshaw and knows NCGM well. "As well as teaching them how to create great dishes, we like our students to learn about the different foods they are cooking with," he says. "We have always had an interactive relationship with New Covent Garden and this initiative will shine a light on how and where the products are grown, their nutritional value and the way the supply chain works. Every top chef in London will work with a trader at the Market, so it's great to get them engaged at this stage of their development. They've created some outstanding dishes for our in-house restaurants, which include The Vincent Rooms, where we offer an exclusive, high quality dining experience that showcases our chefs' talents and the values and skills within the College."
The initiative will run to the end of 2023, so supporting the next raft of students as they begin their educational journey. "It's key that young chefs understand the seasons and WestKing tutors continually work with our suppliers to find innovative ways to educate our students about the availability and origin of the products they cook with," Souto adds. "We encourage the students to do their own research too and with the support of NCGM they will be learning loads more about British grown produce between now and the end of the year."
Back at the Market, Grimshaw adds: "We've supplied the college for a number of years and always got on very well with the lecturers. The lecturers are trying to give students more appreciation of the supply chain and the seasons and working with the best ingredients, whether it's from the UK or overseas. All of the lecturers are extremely knowledgeable, not just in fruits and vegetables, but also meat, seafood and game, and we are all passionate about produce. Part of this is about passing along a bit of passion for the same things to the next generation.
"We also want to convey that it's not just down to a team in a warehouse, but that this product has been on a journey from somewhere in the UK. Chefs need to understand how precious all this stuff is; there is a huge amount of work involved to get it to the point they can chop it up and create something special with it. Come rain or shine, farmers are out there doing a brilliant job, so I think it's important to pass along this appreciation. We work with a lot of fantastic suppliers at New Covent Garden Market, which hasn't just happened overnight. These partnerships have been built up over the last 40 years and we rely heavily on their knowledge and expertise."