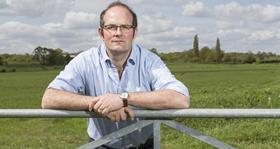 The NFU has stressed its support for gene editing in a government consultation on the future regulation of the practice.
The farmers' union said it believes new precision breeding techniques, such as gene editing, could protect crops and animals from pests and disease, help deliver on net zero targets, and allow farmers to produce more food in the UK.
The government consultation focuses on whether or not gene editing organisms should be regulated in the same way as genetic modification (GM).
Gene editing is different to GM where DNA from one species is introduced to a different one, as gene edited organisms do not contain DNA from multiple species.
As it stands, gene editing is regulated in the same way as genetic modification following a ruling by theEuropean Court of Justice in 2018.
Responding to the consultation, the NFU argued farmers should have the choice to access "the best tools available to enable a resilient and innovative British farming industry".
NFU vice president Tom Bradshaw said: "The underlying principle of this consultation is that some new breeding techniques such as gene editing are not the same scientifically as genetic modification (GM) and should therefore not be regulated in the same way, an approach already used in several countries around the world and one the NFU supports.
"Gene editing offers huge opportunities for farmers and this consultation has provided an opportunity for lively debate among our membership.
"We believe gene editing could help address pest and disease pressures in our crops and livestock, increase resilience in the event of extreme weather, as well as reducing our impact on the environment through a more efficient use of resources. This would support our ambitions to become net zero by 2040, allowing farmers to farm sustainably and profitably."
Bradshaw also stressed that regulation must be based on "robust science" and empower public sector research organisations to drive development and allow investment in products for the UK market.
"It's vital that the UK is still able to trade with the EU and that the internal UK market remains functional should England take a different approach to regulating new precision breeding techniques," he said.
"Government must analyse the implications and discuss the issues in detail with its counterparts in other countries as well as with all parts of the UK supply chain as a matter of urgency.
"Above all, it must take responsibility for the policy and communication needed to inform the public to give them confidence in the proposed regulation."
By contrast, there is a high level of scepticism towards the emerging breeding technique in the organic sector and among environmental campaigners.
The UK's largest certifier of organic land, Organic Farmers & Growers (OF&G), voiced major concerns in its response to the consultation, writing: "We believe that genome editing is both invasive and disruptive and therefore cannot be equated to a traditional method of seed breeding."
The OF&G believes all gene editing should be regulated as GMOs in line with the 2018 ruling by the ECJ.

The body says it recognises that gene editing "may have a role to play in future farming and food systems", and that some farmer may wish to use gene-edited products, but it said it is "strongly opposed to any attempt to redefine any form of gene editing as non-GMO".
"We believe this will constitute an existential threat to the integrity of organic farming, organic products, both domestic and global markets and the relationship between organic farmers and consumers," the OF&G wrote.
The group also claimed there is an "acute lack of robust independent research" to support claims that gene-edited GMOs perform better than conventionally bred plant varieties, reduce costs for farmers or lessen impacts on the environment.
Another organic cerification body, the Soil Association, argued that gene editing 'risksdiverting vital investment and attention from farmer-driven action and research which could yield significant, sustainable results, right now'.
Gareth Morgan, head of farming and land use policy at the Soil Association, said:"Gene editing is a 'sticking plaster' when we need solid, sustainable solutions already within our grasp, that protect animal welfare, restore exhausted soils, improve diversity in cropping and reduce dependence on harmful nitrogen and pesticides.
"Also, consumers and farmers who do not want to eat or grow genetically modified crops or animals need to be offered adequate protection, and current government proposals fail to provide that assurance.'