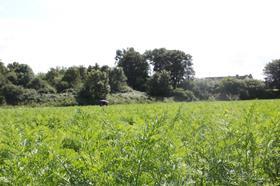 The NFU has set itself the target of reaching net zero greenhouse gas emissions by 2040 through a three-pillar strategy to tackle climate change.
The first of these pillars, explained in a report entitledAchieving Net Zero: Farming's 2040 Goal, is about reducing emissions, using a wide variety of techniques to enhance productivity and deliver the same output or more from every farm, and working smarter to use fewer inputs.
The second is about increasing farming's ability to capture more carbon though bigger hedgerows, more trees and woodland, enhancing soil organic matter and conserving existing carbon stores in grassland and pasture.
The third pillar involves displacing greenhouse gas emissions from fossil fuels and removing carbon dioxide from the atmosphere through bioenergy and bio-based materials such as hemp fibre and sheep's wool.
NFU president Minette Batters said: "There is no doubt that climate change is one of the biggest challenges of our time and rising rapidly on the political agenda both at home and globally.
"Representing British farming, we recognise our unique position as both a source and a store for greenhouse gas emissions.
She added: "We mean what we say about delivering against this aspiration and we have a sense of urgency for what is needed to achieve it.
"We need to implement pilots of the new Environmental Land Management scheme and productivity scheme to see how these work practically on the ground, as they will play a key part in achieving net zero.
"A new shared prosperity fund for rural development also needs to be in place and support from the current Industrial Strategy is crucial."
Despite these commitments, she stressed it is possible for farmers to achieve net zero emissions while retaining, if not growing, Britain's agricultural capacity.
"We must avoid anything that undermines UK food production, and merely exports our greenhouse gas emissions to other parts of the world," she said.
The Soil Association'shead of food and health policy Rob Percival said he welcomed the NFU's "leadership" and "ambitious targets" on tackling climate change but stressed that equal leadership was needed in response to the nature crisis.
"The NFU's 'net zero' plan is over-reliant on bioenergy and unproven productivity ambitions to offset emissions," he said.
"Further intensification risks undermining their goal to store carbon in soils and will further threaten biodiversity. Trees on farms and soil carbon storage are already proven to work and should be a much greater focus.
"The government must now support farmers in a 10-year transition to agroecology, as called for in the recent RSA Food, Farming and Countryside Commission. Agroecological systems like agroforestry and organic must be at the heart of our response to the climate and nature crises."