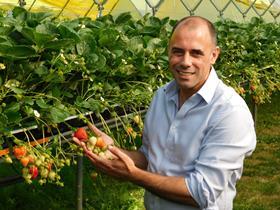 NIAB has become the first UK crop science organisation to sign up as a 'knowledge partner' to the globalAgricultural Innovation Mission for Climate(AIM4C) initiative.
This will ensure NIAB's research to reduce the climate impact of crop production is accessible – to support international action and collaboration on this critical issue.
AIM4C is focused on accelerating the development and application of climate-smart agricultural innovations. The initiative aims to drive more rapid and transformative climate action around the world, supporting a quantum leap in agricultural innovation and empowering farmers globally to be part of the solution to the climate crisis.
Launched at the COP26 Conference in November last year by the United States and United Arab Emirates, more than 40 countries around the world have now signed up to support AIM4C as 'government partners', including the UK, and more than 100 individual organisations as 'knowledge partners'.
Announcing the move, NIAB CEOProfessor Mario Caccamosaid an increasing proportion of the research taking place at NIAB is focused on minimising the carbon footprint of arable and horticultural farming systems and making crop production more resilient to a changing climate.
"NIAB's work in data science and applied agronomy is already helping growers reduce their emissions, for example through more precise application of fertilisers and pesticides, and by adopting low and no-till production systems," he said.
"NIAB's expertise in variety trialling and evaluation also helps farmers make more sustainable choices, for example in terms of input requirements and rotations.
"Our pre-breeding wheat programme is supplying the seed industry with novel traits to improve resilience and productivity, and NIAB's plans for a parallel initiative in pulses and legumes will help unlock the long-neglected climate-proofing and health-eating potential of these key protein crops.
"Longer-term research, such as our partnership with the University of Cambridge to develop cereals crops capable of fixing their own nitrogen, hold enormous promise to transform the climate impact of our food and farming systems."