Two food-waste-fighting firms join forces to create limited edition spirit made with out-of-spec cucumbers and apples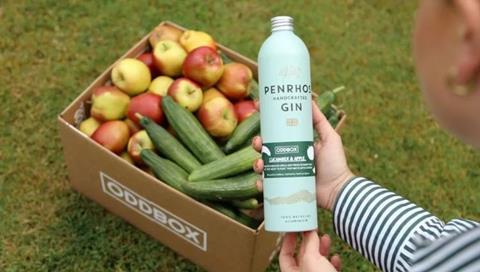 Oddbox has teamed up with Penrhos Spirits to create a 'wonky' gin that fights fruit waste with every sip.
The duo's Cucumber & Apple Gin is made using out-of-spec fruit rescued by Oddbox, and distilled and bottled by award-winning Penrhos Spirits.
It is the first time Oddbox has collaborated to create a spirit using its rescued fruit, but Oddbox said the tie-up with Penrhos felt like a natural partnership. The drinks company makes its spirits from fruit grown on its fruit farm in Herefordshire that cannot be sold to supermarkets.
The new gin is bottled in 100 per cent recycled aluminium bottles that are fully recyclable, reusable and refillable.
Each bottle contains 200g of rescued cucumbers and apples. But shoppers will have to be quick if you want to try it – only 500 bottles of the limited-edition gin have been produced as part of the partnership.
Harriet Williams of Penrhos Spirits said: "We've always followed the Oddbox mission with great adoration for their food waste fighting focus.
"With an authentic synergy between our spirits and Oddbox's vision, we couldn't think of a better partner to be working with this summer to create a tasty, limited-edition gin for both our customers."
Oddbox co-founder Deepak Ravindran added: "We love what Penrhos Spirits are doing with fruit that's at risk of going to waste, and we're also big fans of their new, reusable aluminium bottles. So, this felt like a natural partnership. Two food-waste-fighting companies, one delicious gin. Cheers all round."
To celebrate the launch, Oddbox and Penrhos Spirits have crafted a colourful 'Wonky-Tini' cocktail for people to try making at home.
Ingredients:
50ml Oddbox Cucumber & Apple Gin (2 units)
50ml cloudy apple juice
25ml lemon juice
15ml sugar syrup
Mint to garnish
Method: add all the ingredients to a shaker with ice. Shake to combine, until your shaker feels cold. Strain into a martini glass and garnish with a sprig of mint.
Tip: freeze any leftover mint for future cocktails.
Oddbox x Penrhos Spirits Cucumber & Apple Gin is available (until stocks last) from PenrhosSpirits.co.uk at £38 for a 70cl bottle. The ABV is 40 per cent.