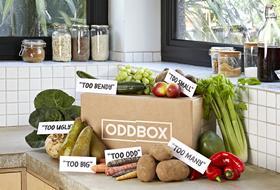 Wonky veg box scheme Oddbox has received £16 million in investment fromBurdaPrincipal Investments (BPI), the growth capital arm of media and tech company Hubert Burda Media.
The investment firm, which providescapital and strategic support for growth companies,
has put forward a combination of primary and secondary investment.
The new funds will be used to accelerate Oddbox's contribution to fighting food waste by enhancing its customer experience, expanding its UK footprint and increasing sharing options for employees.
BPI joins Oddbox's existing investors, Mercia Asset Management and Seedrs, who led a £3 million funding round in March 2020.
Oddbox delivers fresh fruit and vegetable boxes containing surplus and out-of-spec produce that is rescued directly from farms via a weekly subscription service.
The boxes also include tailored recipes and data measuring each customer's impact on the planet as a result of their purchase.
Oddbox co-founder Emilie Vanpoperinghe said: "With our recent growth we've identified key areas for Oddbox to develop and further our mission to fight food waste. So while we continue to retain majority stakes, we wanted an investor to help make these developments happen, and importantly one who also shares our vision that business is a force for good. We've found that in Burda, as they're committed to long-term sustainability, a principle at the core of Oddbox."
Amelia Townsend of BurdaPrincipal Investments added: "We are very inspired by Emilie and Deepak, the Oddbox founders, with their clear and authentic purpose to tackle food waste and the impressive and scalable platform they have built to enable this. We are delighted to be joining the journey to accelerate this mission."