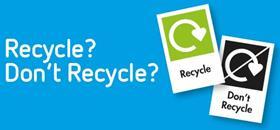 Resource and recycling labelling not-for-profit OPRL has called fora single design to be adopted for the Government's proposed mandatory recycling label.
As the Environment Bill resumes its passage in the House of Lords, the On-Pack Recycling Label scheme is spearheading a broad coalition of brands, retailers, packaging firms and other organisations campaigning to ensure the benefits of its existing labelling are not undermined by a "free for all" in label design, which they said would confuse consumers and reduce "effective" recycling.
The public are also being invited to show their support for the #MakeItEasy campign, which officially launched on 8 September, via the anonline petition.
A spokesperson for the organisation said: "Consumers consistently say understanding what can and can't be recycled can be confusing – and so are multiple recycling symbols.
"While the Government plans to introduce mandatory recycling labelling on all packaging in the Environment Bill, the proposals would allow any business or labelling scheme to decide for themselves what the label would look like, subject to an approval process.
"That will inevitably lead to a proliferation of labels adding to current confusion and reducing the amount of everyday packaging that gets recycled."
Lord Teverson has tabled an amendment to the Environment Bill (Amendment 35) which would secure this unified approach to mandatory recycling labelling.
OPRL said its research shows most recycling labels are poorly understood and many aren't well recognised. A survey carried out by the not-for-profit in March 2021 found that three in four consumers want to do something positive to help the planet and see recycling as a difference they can make but look to Government and business to make it easy for them. Meanwhile, 60 per cent of consumers say they have increased their recycling over the last year as something positive they can do.
Jane Bevis, executive chair at OPRL, said:"We are happy to compete with other schemes in providing labelling services under Defra's proposals as we've built a solid reputation as a world-leading labelling scheme, but firmly believe all providers should supply the same label design – that's the only way to support consumers in recycling effectively.
"A free for all with endless confusing variations of design would undermine the environmental objectives of EPR (Extended Producer Responsibility) and would be a major setback. That's why we're willing to share our label designs and the huge consumer recognition we've built up over the last 12 years with other providers.
"We're passionate about driving transformational change in packaging resource efficiency as part of addressing climate change and biodiversity loss. We have got to #MakeItEasy for everyone to recycle well."
The campaign is backed by manufacturers and retailers, packaging, and waste management businesses, as well as a diverse range of other organisations.
Richard Walker, MD of Iceland Foods, which has supported the campaign, said:'We have previously urged the Government to amend the Environment Bill to incorporate mandatory reporting on plastic packaging, and targets to reduce UK plastic pollution.
"As the Bill resumes its passage in the House of Lords, we fully support the OPRL call for a single design to be adopted for the Government's proposed mandatory recycling labelling and for that design to be the existing OPRL system.
"Helping customers recycle more packaging, correctly more often is a crucial and a simple labelling system that everyone is already familiar with is the obvious solution as we all seek to waste less and recycle more.'
The campaign's other backers include the Chartered Institute of Wastes Management, the Local Authority Recycling Advisory Committee and the National Association of Waste Disposal Officers, the Environmental Services Association, the Foodservice Packaging Association, British Glass, the Confederation of Paper Industries, and Recycling Of Used Plastics Ltd.
A single label is also backed by consumer groups Which? and the National Consumer Federation and green NGO the Green Alliance.