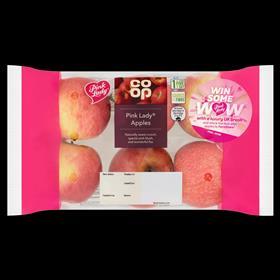 Pink Lady is sharing the love this Valentine's Day with an exclusive on-pack promotion at Co-op.
The promotion, which is featured on every pack of Pink Lady apples and runs from 8 to 28 February, invites Co-op shoppers to enter a competition to win a luxury break to Pennyhill Park hotel and spa in Surrey.
Consumers can enter the competition on the Pink Lady website via instructions communicated on the on-pack sticker.
As part of the promotion, Pink Lady is working with licensee partner Total Worldfresh to donate 24,000 apples to FareShare, continuing its partnership with the UK's largest food redistribution charity. The donation will help support vulnerable children and families in the UK this spring.
Pink Lady's marketing manager Lynn Shaw said: "Our aim with this promotion is to create positive experiences for those who can enter our on-pack competition to be in with the chance of winning a unique prize, as well as those who we hope can benefit from our donation to FareShare this Valentine's Day."
Joanna Dyson, head of food at FareShare, added:"We are absolutely delighted to be working with Pink Lady.Since the coronavirus outbreak, the demand for food has more than doubled, which is why continued support from brands such as Pink Lady is so pivotal to our mission and maintaining the services we provide to vulnerable people.
"Working with a network of 11,000 charities, we are committed to providing nutritious and healthy food to the people we are trying to support, therefore being able to source and supply top quality fresh produce is essential.

"We would like to thank Pink Lady and Co-op customers for supporting our charity with this promotionand generous product donation. Being able to reach such a wide audience with our message is key for raising awarenessofourmissiontoreduce food waste and feed vulnerable people."