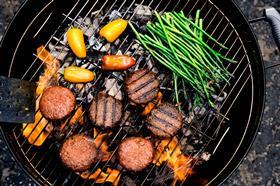 Actress Joanna Lumley will be among the first Brits to try a new plant-based burger that looks so much like meat it bleeds when it is showcased for the first time in the UK next week.
The meat subtitute, backed by the likes of Bill Gates and Twitter founder Biz Stone, has been designed to appeal to meat-eaters as well as vegans and vegetarians, with the aim of reducing the environmental toll of livestock production.
Said to 'bleed' and sizzle like real meat, it is produced by Los Angeles plant-based meat producer Beyond Meat and will be served for the first time at a UK public event at next week's Extinction and Livestock conference in London.
Among other ingredients, the 'Beyond Burger' is made of a pea protein isolate, canola oil and coconut fat, bound with potato starch, gum arabic, cellulose, and methylcellulose. But what makes it bleed red, like a real beef patty, is the beetroot juice it contains.
The burger, which contains 20g of protein, is already available in the US, having launched at Whole Foods back in May 2016, followed by other US retailers such as Safeway and Kroger.
In addition, Sysco, one of America's largest food suppliers, recently signed a deal with Beyond Meat to start distributing the new product to fast food chains, restaurants, hotels, hospitals and canteens.
Lumley said: "It's wonderful to see so many innovative plant-based products being developed which are kind to animals, the planet, and our health.
"I think the Extinction and Livestock Conference will shine a much-needed light on the devastating impact of current livestock production and it's great to know that so many experts, campaigners and policy-makers from around the world will be coming here to help find solutions."
Taking place at the Queen Elizabeth II Conference Centre on 5 and 6 October, the conference will bring together scientists, experts, campaigners and business leaders to discuss the impacts of livestock production on people, animals and the planet.
It is being organised by animal welfare and conservation groups Compassion in World Farming and the World Wildlife Fund, with speakers set to include Beyond Meat executive chairman Seth Goldman, food activist and academic Raj Patel, and health expert Professor Frank Hu of Harvard University.