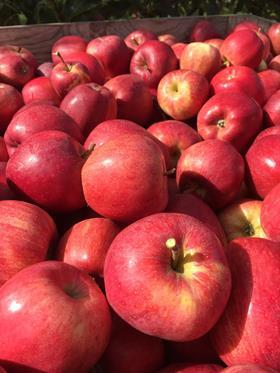 September saw the start of the apple season in Poland, Europe's leading grower of the fruit, with overall yields expected to fall this campaign following spring frosts that hit some producers hard.
Jan Nowakowski of Genesis Fresh says that, while volumes will be down this season following unfavourable weather conditions, demand for exports looks set to rise once more. "This season we had some frost in May and we will have slightly less volume, with estimates of a drop of 20 per cent for apples – although some producers will have even bigger losses, some up to 80-90 per cent," he said. "We have already had our first requests for shipments to Asia and Africa, and have observed a greater need for overseas exports every year, which is a growth area for us and for other producers in Poland. Around 70 per cent of our exports go to the European Union, and 30 per cent is exported to Asia, Africa and Canada."
Fellow exporter Rajpol is also anticipating a lower crop this season, with volumes coming in at a similar level to 2017 – the difference being that prices simply wont reach the same level as that year. "Last season, mainly due to the competitiveness of prices, we sent good volumes of apples to Africa, the Middle East and India," explains the group's Dominik Wozniak. "This season will be different. I don't expect the same volume to go to these markets, but we must do the best job possible to keep them."
Despite these challenges, there is much strength in the Polish apple business, according to Nowakowski, but quality remains crucial. "Production of apples is growing generally, while overall apple production in Europe is either stable or slowly decreasing due to increased costs, a lack of labour and more competition from countries outside of Europe," he confirms. "The growth of Poland's apples will only happen with top quality and marketing in-demand varieties. Quality is key and that's what we focus on each year, while continuity and sustainability of supply is also key for our clients. These clients are looking for more coloured apples with good taste and shelf-life, so we are adapting to the changing world and offering more favourable varieties."
In addition to apple quality, sustainable business practices are also higher on the agenda than ever. "In Poland and also around Europe, we are now having discussions about how to protect the planet and be more sustainable," Wozniak continues. "At Rajpol we have introduced several packaging initiatives, such as replacing plastic with paper, or using thinner bags. I think we are going in the right direction." Genesis Fresh is also heading down the green route, adopting new packaging for clients and promoting eco-friendly packaging, while reducing overall plastic in production, transport and distribution ever year.
Berry efforts pay off
Rajpol has just come to the end of it berry campaign, with volumes of the fruit rising 25 per cent to 1,500 tonnes at the cooperative this season.
"It was a busy time with a lot of effort put in," says Wozniak. "Blueberries were the number one fruit through the summer campaign. We also had very good results on other berries. Raspberries and strawberries have good sales, and mini kiwifruit performed well at Polish retailers despite being only the second year of sales. They are promising for the future.