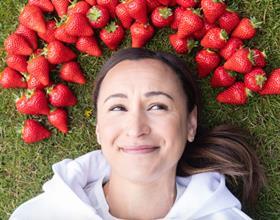 Figures released by Berry Gardens have revealed that sales of premium strawberry varieties in the UK increased by 28 per cent year-to-date (week 1-27, ended 10 July), with Berry Gardens' sales jumping by 50 per cent.

In 2020, Berry Gardens sold over 1,171 tonnes of premium strawberries during the period, compared with 1,767 tonnes in 2021.
This resulted in its share growing to 53 percentage points across the category, up from 45 percentage points.

'With consumers saving more and seeking pleasure and enjoyment from home entertaining and cooking as a result of over a year of lockdowns, research has shown that shoppers are much more concerned about food quality than low prices,' the group stated.

Analyst IGD reported that consumer focus on quality vs saving money had increased from -6 a year ago, at the start of the pandemic, to +9 in April 2021.
"Seeing the recovery and growth of premium soft fruit following the pandemic has been a real positive,' said Rob Harrison, commercial director at Berry Gardens. 'Premium strawberry sales have significantly increased thanks to the growth in demand following the pandemic for more premium, higher quality, nutritious locally grown produce year-round.
"This trend towards premiumisation has seen consumers asking more questions about the food they are buying – how it is grown, where it is grown and what are the added benefits,' he continued. 'Likewise, with the rise in importance of sustainable food production, food security and the environment British-grown produce is more important than ever.
'As a business we have adapted to this consumer demand for local produce throughout the season, and there is no doubt that our ability to supply premium British produce for longer has also contributed to this growth in sales of premium berries."
The demand for premium fresh produce is set to continue as research from IGD also showed that 42 per cent of shoppers intended to live healthier and exercise more once lockdown is lifted, rising to more than half of 18-34 year olds.
Further IGD data also revealed that 86 per cent were prioritising healthy eating with 32 per cent stating their priority was to eat more fruit and vegetables.
"Research suggests consumers, especially younger generations, have never been more aware of the need to eat healthy,' noted Rob Harrison, commercial director at Berry Gardens. 'We see this as a further opportunity for the premium berry category which are typically purchased as an indulgent treat, rather than as part of healthy recipes and meals.
"We are focusing and investing heavily in educating and building trust with consumers, especially between the ages 25-34, on the health benefits of berries giving them another powerful and motivating reason (on top of great taste) to purchase premium berries."

Berry Gardens recently announced that they had partnered with Dame Jessica Ennis-Hill to be the official ambassador of the company's high-quality British strawberries, raspberries, blackberries and blueberries in the first signing of it's kind for the UK soft fruit industry.