The Seasonal Workers Scheme operator has become the first to complete the Responsible Recruitment Progress Assessment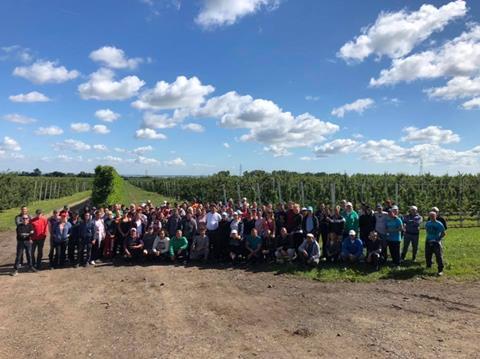 Pro-Force says it has become the first UK Seasonal Worker Scheme (SWS) operator to complete Stronger Together's Responsible Recruitment Progress Assessment (RRPA) audit process, established to protect seasonal labourers working in UK horticulture.
The audit confirmed Pro-Force's Responsible Recruitment Toolkit (RRT) self-assessment score of 97 per cent, Pro Force said.
Developed by responsible recruitment organisation Stronger Together, with input from the recently established Seasonal Worker Scheme Taskforce, the audit has two key stages. First, scheme operators complete a self-assessment and share this with growers and other interested parties to demonstrate management controls in place. This is followed by an independent assessment of the scheme operator, visits to source countries and client farms.
In June 2023 Pro-Force's Compliance team completed the RRT self-assessment. In July, the appointed Stronger Together auditor travelled to Kyrgyzstan to observe a Pro-Force recruitment event and conduct confidential worker interviews. Upon return to the UK, this was followed by two further visits to Pro-Force Head Office to inspect central policies and procedures and interview senior management. Visits to client sites to conduct further confidential worker interviews also took place over two days.
Elements of operations that were assessed included: no forced labour and no child labour; no recruitment fees are charged; job information is accurate and transparent, and all workers are properly recruited and onboarded; regular work is offered and working time is not excessive; work conditions, accommodation and transport are safe and hygienic; access to remedy is ensured and a worker-centred culture is promoted.
"The Responsible Recruitment Progress Assessment findings demonstrated Pro-Force's proactive management of all aspects of the SWS, as well as the recruitment process more widely, mature management systems across all standards of responsible recruitment and multiple examples of proactive collaboration with multi-stakeholders to drive improvements," Pro-Force said.
The audit also highlighted points for Pro-Force to work on, including continuing to educate workers about unscrupulous third party individuals and organisations (outside of the supply chain) offering bogus services which purport to either speed up or enhance the visa / work placement process.
Pro-Force added that work will be done to further clarify the process around reclaiming income tax and continue to drive higher standards in worker accommodation.
The Seasonal Worker Scheme Taskforce was established in March 2023 by industry trade bodies, retailers, growers, recruiters and non-profits to 'work collaboratively to develop and implement tangible actions to help safeguard and ensure access to workers' rights in the UK Seasonal Worker Scheme (SWS) and wider UK horticulture.