Feature: Fresh Direct has preferred to operate away from the fresh produce media spotlight for the last eight years. Until now. Luisa Cheshire visited the firm's HQ in Bicester last month for a much-anticipated catch-up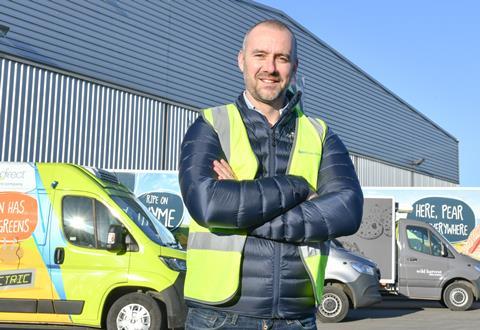 A word of advice: if you are ever invited to a midday meeting at UK foodservice supplier Fresh Direct, don't eat lunch first. Or even breakfast. Hospitality – this journalist discovered on a recent visit to its Bicester HQ – is more than a customer base to the go-to produce wholesaler for the UK pub, restaurant and hotel sector. It is a way of life.
Fresh Direct has experienced major changes in the last eight years, switching ownership twice. First from the Harris family – who co-founded the fresh produce firm 50 years ago, to private equity (Bain Capital). Then, in 2016, US foodservice giant Sysco bought it outright, acquiring sister company Brakes at the same time for $3.1bn.
Today, under the Sysco GB umbrella, Fresh Direct still holds fresh fruit and vegetable sourcing and sales at the core of its business, which encompasses four sites (Bicester, Corby, Dagenham and Wigan) and employs 1,100 staff. But it now also operates specialist fish, deli, dairy, meat and prepared food divisions from its 145,000ft2 Bicester base. This makes it something of a one-stop-shop for its circa 70 corporate pub, restaurant, hotel and catering customers nationwide – many of whom Fresh Direct has been supplying produce direct for decades.
But perhaps the biggest shift since the Sysco takeover is Fresh Direct's focus on food manufacturing. Its on-site Fresh Kitchen facility, which makes a range of sauces, pickles, slaws, marinades, relishes and dishes for the foodservice industry, has trebled in size since the Covid pandemic. And its output has increased four-fold as pub, hotel and restaurant customers have struggled to recruit staff and have looked to Fresh Direct for help.
"Historically, Fresh Kitchen manufactured products for foodservice operators looking to elevate their menu with premium quality ingredients and finished dishes that were either difficult, or time consuming, for caterers to make," says Fresh Direct managing director Andy Pembroke, offering me a plate of exquisite avocado and butternut squash tartlets as we sit down to chat. "However, coming out of the pandemic, many operators struggled to attract skilled kitchen staff, so we have experienced demand for entire meal solutions that would have previously been made in-house."
Last February, Fresh Direct invested £2m in scaling up its Bicester Fresh Kitchen facility – which nonetheless is still dwarfed by the firm's fresh produce operations – to help it meet this growing demand. And with access to Fresh Direct's vast range of fresh fruit and veg (1,800 SKUs), fish, meat and dairy, and thousands of other ingredients available from sister companies within Sysco GB, Fresh Kitchen is well placed to help its customers create bespoke dishes, Pembroke explains.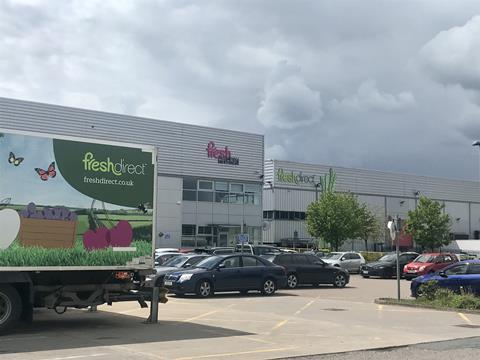 Growth is currently coming from a number of different products, he adds, but most notably bolognese sauce, beef bourguignon and gourmet pickles.
"We are able to provide caterers with high-quality finished products of great consistency, and an escape from the headache of trying to find and retain staff capable of making these products in-house. We have become an extension of their kitchen," says Pembroke, passing across a deliciously aromatic dish of said bourguignon to add to the celeriac mash, steamed chard and honey-roasted carrots that have deftly appeared on the table before me.
Supplying thousands of tonnes of fresh fruit and vegetables (the Fresh Direct range spans wholehead produce, through to fresh-cut and ready-made) to customers every day from more than 100 different global growers demands a dexterous operation – especially when weather events come into play. It is one that relies on a meticulous sourcing strategy, integrity, communication and very close relationships with producers, says Pembroke, who, prior to becoming managing director in January held senior Fresh Direct roles in supply chain and sales for more than 10 years.
"We believe we have fantastic relationships with our growers and thus we can ask a bit more of them. We can leverage those relationships," he says. "We foster good relationships by operating with integrity in everything we do – how we communicate with them, how we pay them and how we support them through difficult times. And it works both ways. Our suppliers really supported us during Covid."
As was the story for so many UK wholesale businesses supplying the hospitality sector, Fresh Direct's orders stopped overnight with the closure of foodservice on 23 March 2020. And its sales volumes stayed in single digits for the duration of the first national lockdown.
"Our relationship with our growers really sustained us. They stuck by us throughout that whole time. We went from needing truckloads of produce to just a pallet or two," remembers Pembroke. "We felt support from our customers as well. Support and empathy went throughout the supply chain."
Pembroke describes how Fresh Direct, alongside sister company Brakes, and rival UK foodservice firms came together and used their collective (and, at the time, redundant) capabilities to pack and deliver vital food care packages throughout the pandemic, as well as support the retail sector by fulfilling online shopping deliveries. "We were delighted to be able to show how foodservice could support the food and retail sector," he says.
When normal life resumed, Fresh Direct's senior leadership team made a point of pausing to reflect on the pandemic experience. "If anything did come out of Covid, it showed how quickly a business can move and get things done," says Pembroke, gesturing to me to tuck into the bowls of poached pears and crème brulée that Fresh Kitchen's development-chef Neil Thrift has brought into the meeting room. "There was such fabulous collaboration and support. Everyone pulled together."
Working collectively to accomplish great things is a core tenet of the global Sysco business, Pembroke reveals. "When Sysco took over, we quickly learnt that we are part of a purpose-led business, one that has a reason for existing beyond the financial. A purpose-led business will outperform a business that hasn't set out why it matters," he adds. "It makes for motivated employees."
Sysco's stated purpose is 'connecting the world to share food and care for one another'. In practice, this seems to translate as espousing a culture of respect and appreciation within the organisation that radiates outwards via the medium of food. Extending, I realise as I glance at the vestiges of the banquet before me – even to the FPJ.
"A lot of time it is just about saying thank you," says Pembroke, breaking off to do just that to Neil who has returned to clear our dishes. "Colleagues and bosses leave thank-you notes for other members of staff who have gone above-and-beyond. It flows throughout the organisation. Half the time it's having that recognition. And that's what we expect from the leaders of our business."
Every Fresh Direct meeting starts with a 'pause for purpose' where individual staff achievements that reflect the company values are acknowledged and praised, he reveals. Personal empowerment and career development are positively encouraged (the firm's successful 'Changing Gears' programme supports employees to train for different roles within the business). And diversity is celebrated.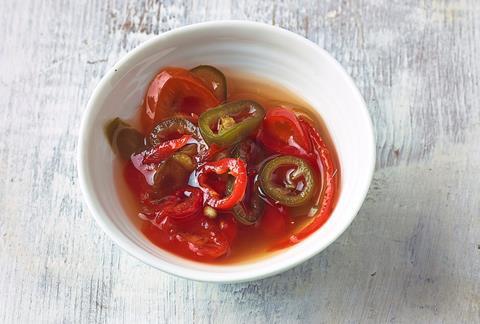 "Our success comes down to the expertise and specialist knowledge of our colleagues," says Pembroke. "It is one of the things that sets us apart: how we leverage this expertise and depth of combined knowledge across all our divisions to best support our customers."
It's perhaps no surprise to learn that Fresh Direct has identified investing in people as one of three focus areas for its future growth strategy – alongside 'product' and 'planet', Pembroke reveals.
"We want to continue to innovate our fresh produce range and continue to add value," he says. "There's going to be a lot of new meal-solution products being released over next 12 months as we continue to support our customers in the kitchens. The focus may not so much be about taking time out of their kitchens, but more about premiumisation.
"At the same time, we want to bring our fresh fruit and vegetable offer to life for the entire Sysco GB customer base. We already do a really good job for Fresh Direct customers, but we want to grow fresh produce across the entire Sysco GB network, which includes Brakes, M&J Seafood, Wild Harvest, kff, and Medina.
"And we'll do that via our other points of focus: by demonstrating the sustainability credentials of our growers and their produce – we are discussing ways of really bringing that aspect to life in the pubs, restaurants and hotels we supply. And by making sure we have engaged and capable people delivering our produce."
It's an exciting time for Fresh Direct's new leader, whose ambition is to offer the UK hospitality sector the best foodservice supply chain options in Britain by harnessing the might of Sysco GB's entire network.
"We have the scope to offer something that lifts your business," says Pembroke, whose Fresh Direct executive career has survived it all – two takeovers, Brexit, Covid, produce shortages and the current cost-of-living crisis.
"I am extremely proud to lead the teams in our company," he says. "I am equally proud of the customers we have. We have developed and grown alongside a number of customers that we've supplied for double-digit numbers of years – and that tells me that we continue to do the right things.
"We work in a people business. Our customer base is in hospitality," Pembroke continues. "For us to succeed, it's got to be about nurturing those relationships. That means treating everyone in our network like the family they have become."