AI method models worker skills and farm needs in bid to transport fruit from pickers to packing stations more quickly and cost-effectively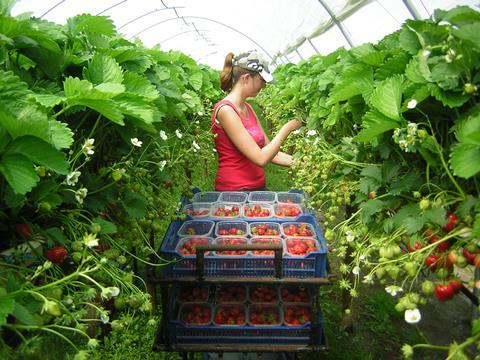 A new research project from Performance Projects and the University of Lincoln is developing a low-cost "human-robot teaming solution" using AI to maximise the efficiency of available human labour.
The AI method is being trialled at Clock House Farm in Kent to model worker skills and farm needs in a bid to transport fruit from pickers to packing stations more quickly, efficiently and cost-effectively.
The aim is to achieve a "step change" in the productivity of soft-fruit harvesting and thereby help address well-documented labour shortages in the sector.
The project is called Co-FRUIT (Collaborative Fruit Retrieval Using Intelligent Transportation). As part of the research, an automated lightweight electronic vehicle has been developed that transports empty trays to pickers and filled trays to packing stations.
AI technology is used to match robotic retrievers with human pickers, so they arrive at the appropriate time in a convenient location – aided by sensors – to collect the fruit and then take it to the packhouse.
University of Lincoln professor Elizabeth Sklar is leading the project. "Human workers are paid on a piece rate, so we know approximately how fast they can pick," she explained. "This means we can model when each picker will be ready for a robot to collect their fruit, so they don't have to lose time by having to press a button and then wait for the robot to arrive."
Developments like this will, of course, necessitate effective communication between humans and robots when they are operating in the same area of the farm. To facilitate this, and ensure workers' safety, robotics experts at the University of Lincoln, Simon Pearson and Marc Hanheide, are developing a kind of sign language so workers can tell a robot to approach, back up, stop, go left, or go right.
"The big transition over the next 15 years is that the industry will need hybrid solutions," said Sklar. "You're not going to take a farm, flip a switch, and say: 'On Monday all the robots are here, and we don't need any more people'. So, we need to develop systems that allow humans and robots to communicate effectively when they're operating alongside one another."
The project, which began at the start of May 2022, is due to finish at the end of October 2023. The aim is to develop an affordable navigation system for the retrieval of tabletop strawberries that costs less than £500 and could help growers save on hardware costs by up to 90%.
The integrated scheduling and planning systems that is in development promises savings of up to 20% in human labour costs, and a reduction in farm manager time of 5-10%, according to the researchers.