Shoppers get ready for Platinum Jubilee despite highest grocery price inflation since 2009, Kantar figures reveal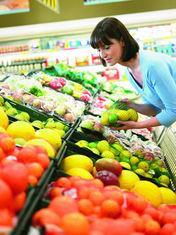 UK supermarket sales fell by 4.4 per cent during the 12 weeks to 15 May 2022, according to the latest take-home grocery figures from Kantar.
Sales declined more softly over the past month and dipped by just 1.7 per cent, the market's best performance since Christmas, as the nation looks ahead to the Platinum Jubilee weekend, Kantar said.
Like-for-like grocery prices have risen by 7 per cent over the past four weeks compared with the same time last year, the highest level of grocery inflation since May 2009.
Fraser McKevitt, head of retail and consumer insight at Kantar, said: "People are really feeling the squeeze at the supermarket tills and they're having to stretch their budgets further to accommodate rising prices."
However, despite rising inflation levels, there are signs that the British public is already looking ahead to the Platinum Jubilee at the beginning of June.
McKevitt added: "With a four-day bank holiday weekend on the horizon, we're expecting people to celebrate with friends and family. Looking back at the Diamond Jubilee in 2012, we saw a 10 per cent boost in supermarket sales during the week leading up to the festivities. We should never underestimate the appetite for a party, especially a royal one."
Lidl is the fastest growing retailer this data period. The grocer's sales increased by 6 per cent in the 12 weeks to 15 May, marginally ahead of Aldi which increased sales by 5.8 per cent.
"Lidl has hit a new market share high of 6.9 per cent, a 0.7 percentage point increase on this time last year," said McKevitt. "Aldi also broke records, climbing to a 9 per cent share of the market for the first time, an increase of 0.9 percentage points versus 2021."
Tesco performed ahead of the wider market increasing its share by 0.4 percentage points to 27.4 per cent. This is the seventeenth month in a row Britain's largest supermarket has gained share, its longest streak since 2007. Sainsbury's, the second largest grocer, sits at 14.8 per cent.
Meanwhile Asda, which has reintroduced its discounts for NHS and emergency workers, accounts for 13.8 per cent of the total market. Iceland's share remained steady at 2.3 per cent, with the 5.2 million over 60s that shop with the grocer every year soon to be eligible for the retailer's new age-specific Tuesday discount. Morrisons holds 9.5 per cent of the market, with Co-op on 6.1 per cent and Waitrose on 4.9 per cent. Online specialist Ocado's grocery sales are 6.1 per cent higher than two years ago and it holds 1.7 per cent of the market.