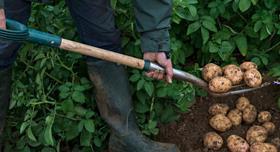 The Scottish government has outlined its ongoing support for farmers, crofters and land managers to switch to organic production.
The Soil Association welcomed the reopening of the Agri-Environment Climate Scheme (AECS) for funding in 2022 – to support the government's ambition of doubling the amount of land under organic management in Scotland as set out in the Programme for Government 2021-22.
Soil Association's head of policy Scotland, David McKay called for the UK government to match the commitment, and as Glasgow prepares to host COP26, he said the move underlines the importance of farming and land use as a solution to climate change.
"So far, clear support for organic production has been absent from the Environmental Land Management Scheme (ELMS) and this must be addressed prior to the full roll-out in 2024.'
McKay added: "This is very welcome and an important step in reaching the Scottish Government's commitment to doubling the amount of land farmed organically in Scotland.
"This will provide farmers, crofters and growers who are interested in converting to organic and sends a clear signal that growing the sector is a priority for this government.
"The AECS payments have also played a vital role over many years in supporting farmers and crofters to take action for nature and climate, contributing to the conservation of many endangered habitats and species."